Hooterville video
34 min long | ~ 920mb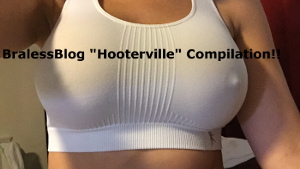 Segment 1: cute amateur dances around her apartment braless in a gray sweater and black yoga pants.
Segment 2: busty gal in a cutoff t-shirt and shorty shorts dances around and bends down for the camera. She is very perky. Great downblouse.
Segment 3: another amateur in tiny black panties and a white shirt dances around her house. Lots of bouncing.
Segment 4: a lady with a dog on a boat has serious pokies.
Segment 5: gal in a soft cotton tanktop plays with her big melons.
Segment 6: dark haired beauty sits on the floor and shows you some pokies through her red shirt. Interesting open bra beneath…
Segment 7: I think this gal is laying in a tanning booth and she has some serious sports bra pokies.
Segment 8: a black tanktop is no match for these pierced nips.
Segment 9: a milf walks around a store shopping in a dress that totally exposes those braless pokies.
Segment 10: a cute topless amateur teases us with a winter scarf.
Segment 11: a gal in a bikini bounces them around for the camera while smiling.
Segment 12: a hardbody in a croptop and yoga pants poses braless.
Segment 13: a busty gym gal takes a selfie while she unpacks those big ones from her sportsbra.
Segment 14: a college coed makes some adjustments to her tanktop.
Segment 15: a braless girl in a pink top and panties shows a pair that could make her millions.
Segment 16: busty latina tanktop boobies right in yo face.
Segment 17: a sweater dress allows this milf to show off her B-cup pokies.
Segment 18: some lucky dude gives his DD wife a massage she really enjoys.
Segment 19: a lady in a very thin dress takes a tour of a home improvement store and shows what she has to everybody.
Segment 20: gigantic boobs bounce around in a bikini selfie while this girl walks.
Segment 21: a very fit babe does some fancy vogue dancing in a concert parking lot while bystanders gander at her braless boobs.
Segment 22: amateur with perfect skin unzips the bra to unleash a bit of heaven.
Segment 23: a soft bra gets tugged upward for a really yummy boob drop.
Segment 24: a gal in an insane green strap dress defies gravity with her poorly covered boobs.
Segment 25: cute latin looking girl adjust her bikini on the beach.
Segment 26: a curvy girl in some delicious lingerie gets some coffee in public.
Segment 27: a girl fools us by unzipping a tight suit and going from what looks small into unleashed gigantos.
Segment 28: a mirror selfie of a girl lifting her tight white shirt up.
Segment 29: a milf with a few tattoos bounces her two best friends around.
Segment 30: a braless amateur gets bounced around in a sports car… you are going to love the bounces.