23 mins long | 1 Gb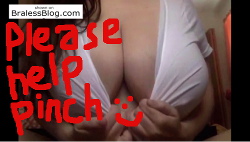 Segment 1:
I'm reluctant to "spoil" this segment by telling you what happens. This girl has some office binder clips on her nipples, and appears to really enjoy… ummm… how tightly they squeeze.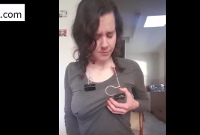 Segment 2:
An astoundingly gorgeous, busty gal in various low-cut bikinis and swimwear. I think I'm in love.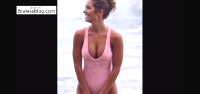 Segment 3:
An amateur shakes her business in this video selfie. I won't tell you what you'll see when she turns around…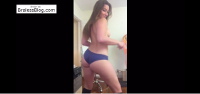 Segment 4:
Some kind of photo shoot goes a little wrong, considering this gal exposes all kinds of sideboob while she's wearing no bra. Are they squirting this poor model with a water bottle?

Segment 5:
A busty swimmer does a thorough warm-up by the pool, including some jumping around. Try not to stare at her bouncing boobs. I know you're squinting with your nose 1cm from the screen right now.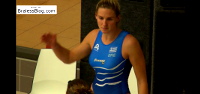 Segment 6:
I always love the exposures where a girl with big boobs has them packed into something tight, and when she unzips or unbuttons it, we get 2x as much surprise as we thought we would. I need to coin a new phrase for this… anybody have any ideas?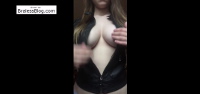 Segment 7:
In this telecast, this reporter dude like gropes this gals nipple. I don't know what he's thinking. By the look on her face, I can tell what she's thinking!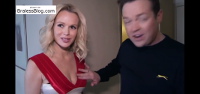 Segment 8:
This dress exposes a ton of cleavage on this lady on some kind of game show. I wonder if it's short and shows off her derierre too?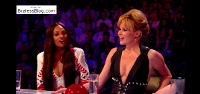 Segment 9:
Huge bikini boobs give me a reason to live. Let's hope these get exposed.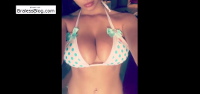 Segment 10:
A girl modeling some purple lingerie that is truly barely there. Waaaay hot.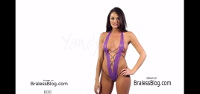 Segment 11:
Some weather lady in a satin blouse has a bit of nipple trouble. Her entire morning audience is probably giving her the one-member salute right about now.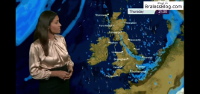 Segment 12:
This amateur wearing a thong and nothing else appears to be bent over packing a suitcase. Maybe it's her husband or her boyfriend who sneaks up behind her for the candid video? Some boobie wobble if you're looking for it… and trust me I am.

Segment 13:
A mesh top on the runway exposes every nipple there is to see. You guys seem to love the runway clips, and every now and then I run across a gem!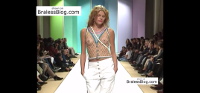 Segment 14:
My lord look at the pointy nipples and giant boobs on this gal. Makes me thirsty for some whole milk, and hungry for a motorboat.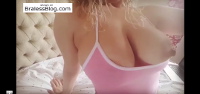 Segment 15:
This amateur babe squeezes her boobies up in a black bra and makes us cry uncle.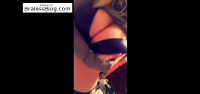 Segment 17:
It takes a bust of a certain size to pull off a good boobie shake. This gal easily exceeds the requirement… and when that top pops off wow. I hope you guys recognize that I can ferret out some of the awesomest boobs on the internet!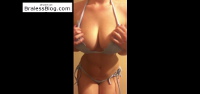 Segment 18:
I don't know who invented front closure bras, but god bless them. We should pass around a hat and take up a collection for them.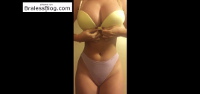 Segment 19:
Another newscaster with pokies. That skin-tight blue top makes it basically impossible to hide an erect nipple or two.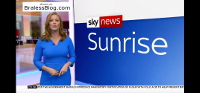 Segment 20:
You gotta be kidding me – that Asian massage pervert is back, and this time he's all hunched up on a lady in a bikini sunbathing on the beach. See the way her big boobs squeeze out of her top while she's laying on them? Fabulous…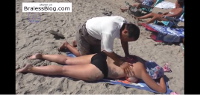 Segment 21:
Amateur braless chick in the bathroom rearranges her tanktop for our viewing pleasure.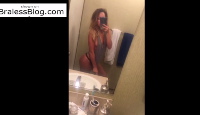 Segment 22:
Oh my, these are big and they are in our face. I can get enough of clips like this. Call me a perv.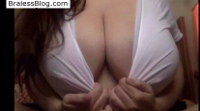 Segment 24:
This muscular little aerobics chick is quite athletic. She gets a little sweaty during her video, and I can't take my eyes off what she has stuffed into that sportsbra.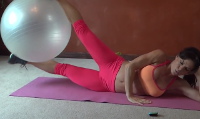 Segment 25:
Ahhh! I'm weeping! Dear Lord, thank you for blessing me with the ability to find giant juggs and women who like shaking and showing them.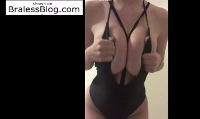 Segment 26:
A big boobie drop. That shirt was so tight, I wasn't entirely sure she was going to be able to pop those girls out!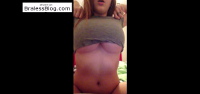 Segment 27:
Boobies bouncing on the runway when this girl stomps and clomps her way around in a loose, transparent chifon.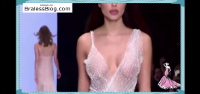 Segment 28:
Another fitness gal who is proud to show off her body. Do you think it's cold in that bathroom? Her pokies are quite alluring.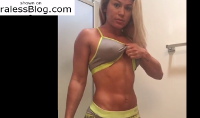 Segment 29:
Gah – seriously, we can't get rid of our massage weirdo. He basically gives this poor lady an amateur breast exam during the massage.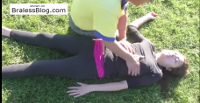 Segment 30:
Some sneaking dude on the train creeps around taking candid videos of a girl with giant boobs who has (fortunately for us) chosen a black dress that reveals a bit too much.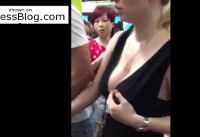 Segment 31:
Big boobs in a nightgown, and oh yeah don't forget about the nipples.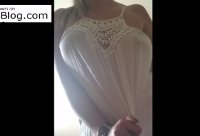 Segment 32:
An amateur with long brown hair and in her gym shorts lets her soft boobies out to play.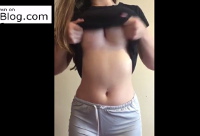 Segment 33:
Oh boy, more perfect boobies. She has them tied up at first, but that doesn't last long 🙂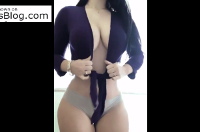 Segment 34:
This girl's perverted boyfriend stands outside the shower and records her wiping it down. She tries to keep that towel around her, but there are a few, ummm, slip-ups.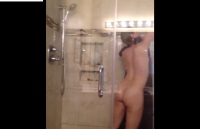 Segment 35:
This blonde babe seems to be very happy to be wearing a crazy orange swimsuit that completely shows off her awesome boobs.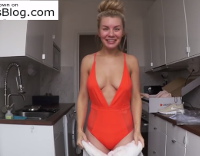 Segment 36:
I have no idea what's going on with this Russian couple. They wander around some city, and the dude takes videos of his girlfriend as she lays around, gets dressed, and plays with a cat. With a body like that, I'd take videos too.