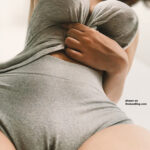 There is something about seeing braless boobs from below that really turns me on.
I suppose to reminds me that I enjoy having a woman climb on top and rub herself all over me. I'm not a submissive kind of guy, but I'm more than willing to lay there and let her use me as a jungle gym.
This lady serves up my fantasy in spades, what with her big torpedo-shaped, pointy, d-cup boobies, plus her little cleft of a cameltoe.
I might as well continue that theme for today. I seem to have an affinity for stumbling over smoking hot cameltoe pics, and you guys are always emailing me asking me for more.
I had a tremendous, A+ cameltoe pic that I stuck in here, but realized I had a whole separate post about braless biking. So if you want to see it, go there and scroll down to the latest update.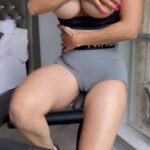 While we're looking up from below, we might as well deepdive this babe. Holy smokes, has she got it going on. Those boobs are squashed into her thin yellow t-shirt and begging to be set free. That little slice of underboob wakes up a monster in me. And she has thankfully yanked those little green booty shorts so far up her hips that she's cleaved her labia in two. I mean seriously, I'm worried her shorts are going to impregnate her, or possibly cut off the circulation to her pudenda.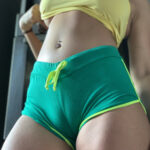 All of this sort of culminates in this amazing braless legspreader. Crikey, look at that body. Her nipples are so hard she could cut heart-shapes in a mirror with them. And that white shirt has no hope of concealing them. And then she has perched on the corner of her kitchen table with her legs spread as if to say "insert nose here." The seam of her shorts is so perfectly in line with her labia that I get a sense of a world in which nothing will ever go wrong.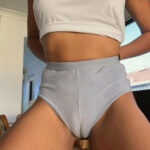 By the way, while I was at it I added some shots to the braless brides page if you want to check them out.