I tried to put some kind of bio together for Sophie Mudd, but the short story is: boobs.
That's right, she hasn't really done much else to become famous, other than possessing the kind of tit-to-waist ratio that makes Barbie dolls and top heavy fire hydrants jealous.
She has 2 or 3 million Instagram followers. In theory, some of them are chicks who dig fashion. But in reality, about 99% of the people showering Sophie with attention are dirty old men like me who continue to slobber over her slutty boob displays.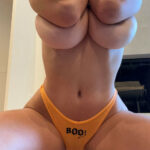 She definitely knows how to work those things. And I'm pretty sure they are all-natural, although I'd be happy to taste test them and give them an exploratory motorboat just in the name of science.
I think she is 24 years old. Legends abound regarding her measurements, but consensus is she's 5'5″ tall, weighs about 125 lbs, and wears a 32F bra size. Dang, those things are the biggest part of her body.
She loves flashing them around. You can find pics of her naked, but it's not what you're thinking/hoping for. It's all implied nudity, you can never really get a peek of her ta-ta's fully bare.
But braless? Oh, yes. She has enough cleavage to get lost in.