As soon as I created and posted a new video, youtube age-restricted it. So you can't stream it from BralessBlog, but you can at least still watch it on youtube:
https://youtu.be/wGFBP14dRvY
As I was saying, before a bunch of mean censors interrupted me, I get giddy and giggly when I watch these ladies get jiggly.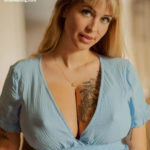 I took the time to update my Acropolis post. Does she have a new tattoo? I swear I don't think that was there before.
I have the itch today, and only big braless boobs are going to scratch it. I'm sure some of you guys get that way, too.
I'm glad you're here, scratching your itch with me today. If you're in the mood, you can time travel all the way back to 2007 and check out Jessica.
Also, some of the video links to my riveting expose on Giada's nips didn't seem to be working, so I refreshed a few things on that page.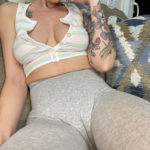 We shouldn't get too far down the road of updates today without me revisiting, brushing up on, touching just briefly (ya like what I'm doing there?) the topic of braless crotch shots.
Now I know some of you are whine about this lady. She might need a shower and a little make up. And those melons look slightly dehydrated. But you have to love the availability of cleavage both at the top and the bottom.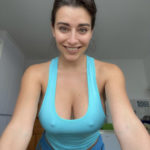 And finally, dayum. I am in love with this chick.
Big wide smile. Big gorgeous eyes. Giant hooters that are barely restrained in this tanktop. And those pokies? Get the fuck out of here! I bet she has big pink nipples, and those pokies just make me want to roar like a lion.
I think looking at hooters raises testosterone and increases male health. And probably female health too. I'm going to start a study to research this.