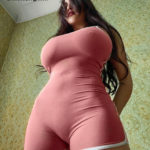 I'll take a bow, and accept your accolades. I am so awesome. I repeatedly dig up amazingly hot braless hunnies from all over the interwebz and toss them out here on BB for you to discover. Annnnd here I am doing that again.
Louisa Khovanski is regoddamdiculous. I mean mind blowingly hot.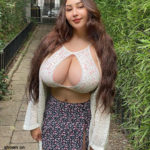 Yes, her boobs are gigantic. We'll cover (uncover?) more about that later. But there's much more about her to appreciate.
She's pretty famous, so I debated whether I should post something claiming to have discovered her. She has 2.7 million followers on instagram. Wow, that's crazy. That almost rivals Leicht, who you'll remember I accused of breaking the internet with her popularity. The scorecard:
Leicht Perligh 2.9M
Luisa Khovanski 2.7M
Grace Charis 208k
Jessa Brooke 108k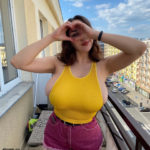 Louisa also has a presence on youtube, where her following is a bit smaller. Looks like she has 279k subscribers. And of course she does onlyfans, where I'm guessing she makes a zillion dollars a year.
Louisa is Ukrainian, and you've probably heard about the craziness going on in that part of the world these days. She recently posted a video saying that she had made the touch decision to move from her home into Poland. Presumably that will keep her from getting caught up in the war. Imagine the likes of some worn out bunch of Russian soldiers stumbling across a hottie like Louisa. They would probably throw down their weapons and immediately pledge allegiance to her. Heck, she could probably single-handedly end the war.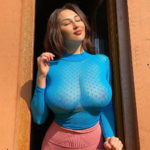 I think she is about 5'5″ tall. And I think her eyes maybe green-ish. It's hard for me to stare at her eyes for any length of time because… tits. I don't know how big those suckers are, but it's gotta be F-cup or larger. And, they are all natural. How do I know for sure. Trust me on this. A little video evidence. I would totally put together a compilation video, but posting it on youtube would be useless because it would immediately get flagged with all her gorgeous nipple action.
Her nipples are pierced, as you can tell. She is not in the least little bit chubby. I don't know if she exercises or carefully watches her diet to stay fit, but it works. She has a tiny waist, a bubble butt, and whoa the bewbz.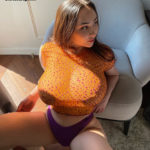 So she might be my new favorite. I know, I know – it seems like I have a new favorite every other week. But goddam she is gorgeous and I can't help it.
You may notice that her photos are of really good quality. The story goes that Louisa is not just a model, she actually got a degree in art and photography. It probably helps when you understand both sides of the lense.
Update:
I could update Louisa's post every day. She is always out there posting stuff for fans, and she is gorgeous, and I'm in love. This pic is of her with Francia. They are both hot, but clearly Louisa is the hottest.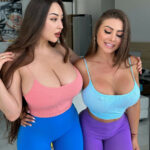 And this pic is so damn hot I'm nearly speechless. She is basically busting out of that little bikini thing she's wearing. Tiny waist, wide hips, little tiny labia, boobs shaking loose. Mercy. She sets the gold standard for hotness.