Some of us grew up drooling over Kelly Bundy's dumb blonde personality and hot good looks on the Married With Children TV show.  Christina Applegate's career has never really taken off since that show ended, but she is probably rich from the syndication proceeds.  Here at BralessBlog.com, we don't mind drooling over nipples belonging to hot rich chicks, even if they have washed up careers.
More Kelly Bundy tits…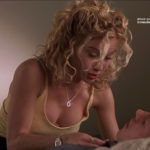 This shot is from a mid-90's movie. I love the way the downblouse emphasizes her soft boobs and the lacy top of her bra. I wish she would straddle me like she is straddling this guy!
Update 1:
I'm adding a video that shows Christina's pretty little boobs bouncing.