When they are big and they are natural, it's rare that they are shapely. But hey, whattya know, Haley Atwell's boobs check every single box!
I searched my memory, which is basically useless. So then I searched the site, and I found that waaay back in 2013 I posted a brief blurb about Haley:
http://www.bralessblog.com/2013/08/04/braless-shenanigans.html
Since I'm on this big "nattie" kick lately, I stumbled across Haley's monsters and thought I should talk about her a little more. Um, and look at her.
How big are Haley Atwells boobs?

Well, I asked Google, cause I just had to know. And they are reported to be 32DD. But I don't know about that. In some of these photos, they look much bigger. I mean, it's possible for her to strap them down, squash them flat and make them look smaller. But in some cases when she is letting them float around braless – my god they look ginormous!
Does she have any nude pics?
Well, kinda. I won't post them here, but I've found a few screen caps where she is topless or nude, but basically hidden and not showing the goods. I think I saw a leaked selfie she took with her cell phone that showed her ass in a mirror, but honey that ain't her best feature 🙂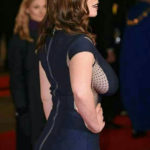 This photo shows you exactly why Ms Haley is a professional boobslinger. Wow, that is sideboob for days. Her sheer dress coupled with those braless boobs and this sneaky camera angle is like… fabuloso!
You know how some bodybuilders look like big out of shape bears when they are in certain clothes? Well, Haley can look like that too in certain circumstances. She looks best when she's wearing tight, form-fitting clothes. She's not a skinny gal. Her weight fluctuates a bit like any woman's, but she's always going to be a little cake-ish. Ain't nothin wrong with that.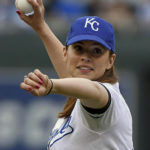 So here's another case in point. I find this photo of Haley throwing out the first pitch of a baseball game humorous for several reasons. First of all, she has pokie nipples. Maybe she decided she didn't need a bra that day? Again, there she goes boobslinging again. I'm sure a bunch of dudes in the baseball stadium were zoomed in on her yummy breasts. Second of all, she looks like she is really raring back, and doing her best to put some heat on the ball. Mmm, I wish I had a video of this.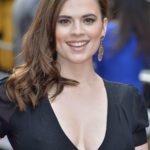 If you were a celeb with big natural boobs, would you go to a red carpet event in a sheer black dress with a deep v-neck front and no bra? Well, Haley sure does. And here she is in this pic, with pokies that make my eyes (and my mouth) water. I don't know if she has a stylist and a personal trainer and a gene splicer and a fairy godmother who all collaborate to make her look this hawt, but whatever the team they all deserve a raise.
And not to get all sappy on ya, but I think she has a pretty smile in that pic too.
I'm going to squeeze a couple more pics and a video in here, just because I'm completely enamored with Haley's cleavage today. That black dress makes cleavage like birds make eggs. And that off the shoulder velvet thing? Dang, makes me want to yank it down and motorboat.
Sidenote: Against my better judgement, I have turned the comments back on. If you guys like what you see, leave a comment! Spice it up in here a little 🙂 But if you keep spamming me with links to russian nike sites I'm just gonna close em down again.
Update:
Her pokies are great in this pic. If her nipples stuck out any more, they might rip right through her dress..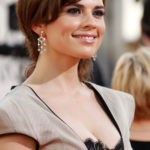 She is braless and looking kinda slutty in this pic. I like how the top she's wearing squashes those big natural melons of hers, and we can see the fold of her boob/cleavage in the v. Also, her giant boob on the other side is flattened out and you can see the hint of a nipple pressed against the fabric. Hotness…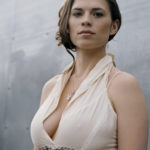 Update 2:
If you look closely enough, and haha what a joke, since we are all perverts here and we tend to look veerrrrry closely, you will not only see Haley's yummy braless cleavage in this shot, you'll also get just a hint of her pokies. She might have thought she could get away with this in a black dress, but her nipples are just too overpowering.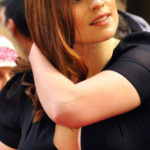 Update 3:
Some see-through action where Haley's nipples are visible in the black dress…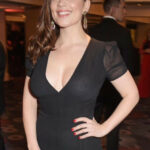 And this dress does a good job of showing off some pokie nips…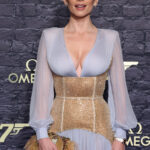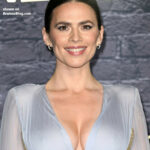 And delicious cleavage