18 mins long | 720 MB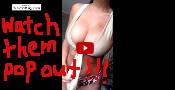 Segment 1:
This busty blonde cooks a few things in the kitchen while giggling and wiggling those boobies around…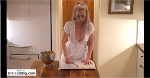 Segment 2:
So athletic cleavage as we watch this runner bouncer her way through track sprints.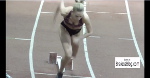 Segment 3:
Calling all dirty perverts. Let's watch this lady pump her breasts. The milk begins to flow.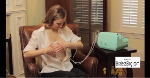 Segment 4:
We watch this braless, smoking hot blonde prance around modeling the open front, shiny purple suit. Wow, the boobs.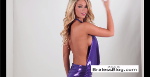 Segment 5:
I have featured this insanely busty Asian girl in videos before. Usually she's in a tanktop making something in her apartment. Here she is in a store, with her top half unbuttoned, showing off some equipment.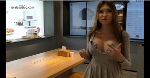 Segment 6:
This cute amateur has some great pokies, and after pinching her nips mercilessly she finishes off by giving us a flash of those yummy pale yumyums.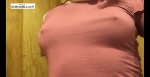 Segment 7:
I've seen this girl in other spots on the internet, sometimes with her finger in her vajayjay. Here she shows us her really succulent pair while astride a motorcycle.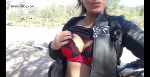 Segment 8:
I have featured this flexible little yoga lady in other videos. Her we see her completely nude, but managing to hold her boob in one hand while doing a back bend with the other hand.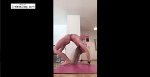 Segment 9:
I love this segment. A girl jiggles her huge natural pair around a bit, with her pokies ripping at the fabric of her shirt, before finally lifting it up to show us what we need to see.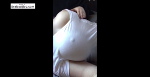 Segment 10:
A thin white cotton top is no match for this gal's nipples. She does indeed pull it up and play honk the goose.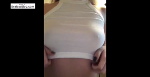 Segment 11:
A very excitable lady jounces around on her porch in a cool cotton camisole with pokies on full display.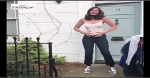 Segment 12:
I think this is the same lady, with some crazy nipples poking against her white blouse.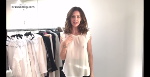 Segment 13:
This busty, nipply lady is the stuff legends are made of. She unties her top and her wonderful, incredible boobies come spilling out!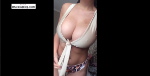 Segment 14:
This gal slowly unzips her jacket, and those DD's of hers are finally unleashed!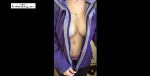 Segment 15:
Very pointy, very perky. These boobs are enough to poke your eyes out…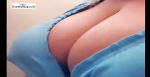 Segment 16:
This is a unique segment. I would call it a downblouse, but she is in some kind of loose-fitting exercise tanktop, and she seems to forget that we can totally see her boobs and nipple if she bends down.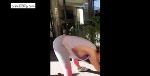 Segment 17:
My guess is these are F-cups. This lady totally slings them down when she pops them out of her top! They actually bounce and knock together… (heavenly)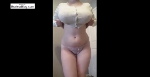 Segment 18:
It's worth noting this young lady not only has big boobs, she also has a bit of a cameltoe hanging out of her nearly transparent white panties.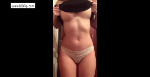 Segment 19:
This is some kind of newscaster who has the goofy sense to run around braless in a sweater with her pokies flying on national TV. Long segment, with lots of close-ups and some slow-mo bouncing.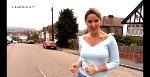 Segment 20:
This amateur goddess tries on all kinds of clothes for her audience. I think the braless tanktop was my favorite, but there are certainly a few other revealing outfits!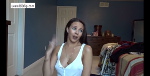 Segment 21:
This little mamma washes dishes in her pajamas but reveals a bit more than I think she intended to!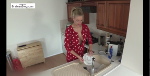 Segment 22:
This busty tennis player bounces all over the court with those big boobs. You would think she would try to strap those girls down better, but you can even see nips!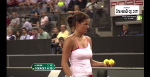 Segment 23:
Window washing goes awry when this ladies boobies refuse to stay still in her tanktop.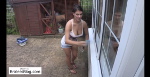 Segment 24:
I swear I don't know where this little skinny redhead go such large boobs. But she does a nice job showing them off in trashy lingerie while decorating her Christmas tree 🙂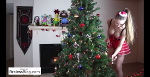 Segment 25:
An odd camera angle makes me think this amateur wife wanted to obscure her identity when sending a video of her feeling herself up and pinching her nipples. But you can't hide them boobs!

Segment 26:
This tiny Asian gal is nothing but boobs and tongue. She prances all over the place to her favorite music.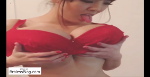 Segment 27:
Hold on to your hat, Mister: these boobs are surprisingly big when they pop out of this sportsbra!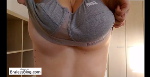 Segment 28:
Godbless this girl who jogs with her big bewbs bouncing around in a tanktop…

Segment 29:
This girl has huge boobs and does some crazy, sweaty things on the exercise bike and kicking the crap out of a punching bag! Wow!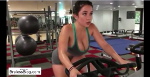 Segment 30:
This amateur gal might be in a classroom or a library when she eases those monsters out of her top…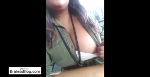 Segment 31:
This purple-top mama has to have some serious stretch in the fabric to accommodate her big, semi-saggy boobs. Her nipples are kind of pointing south, but we don't mind!