We tend to keep our eye out for Lia Rinna's Nipples…
Green Satin and Braless
Pokies
She obviously doesn't mind showing them off. We'd be proud too if we were a rich milf with the body of a goddess. She is not only braless in these shots, she is also see-through!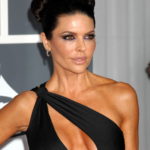 Here's a photo of Lisa on the red carpet when she was looking pretty smoking hot. Granted, this was taken 10 years ago, some professional probably worked on her hair and makeup for two hours prior to the event, and her lips (god bless 'em) are still all mangled. But you have to love that cleavage.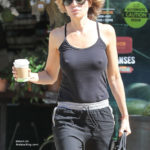 And here we see her on a coffee run one morning. You have to wonder if, in her pursuit of caffeine, she ran out of the house without even thinking about putting on a bra. That tanktop does nothing to disguise her monstrous pokies, and photographers (and every husband withing five square miles) can't help but check out her rack.