Look, man, Jennifer Love Hewitt likes her boobs.  When you have like D-cup all-natural breasts and you run around braless in a sundress, you may as well put a sticker on your forehead that says "HEY EVERYBODY LOOK AT MY BOOBS." And yeah, we are curious about her nipples too, aren't we?
You can, if you look closely enough – haha I know you have your nose right against the screen and your hand in your pants – see a wonderful hint of pokies on little Ms Jen.
The (un)holy grail of course would be to stumble across a few photos of her nude. It hasn't happened yet, but I have my legs fingers crossed.
She has 432k followers on instagram. She posts personal photos there fairly frequently. She always seems to crop her cleavage out of the pics, unfortunately. Let's hope for a slip.
Update: our prayers were semi-answered, since Ms Jen recently posted some accidental downblouse photos. This gives me the shivers (in a good way) how about you guys?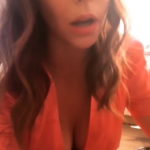 More updates: I'm going to do us all a favor and post this photo of Jennifer posing topless. She says this is the first photo her husband took of her while pregnant. At the time it was taken, she was 14 weeks along, and those boobies were just getting ready to blossom. It's interesting that she clarifies that it's not the first photo he took of her topless, since we all know he is probably a dirty perv like us and likes to take pictures of her all the time!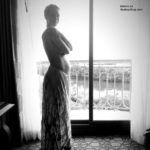 Here are a couple more photos of her braless in a black dress on some movie production set. Those pokies are delicious, and remind me to pick up milk from the grocery store on the way home from work tonight. I'm guessing as she clip-clopped along, this photographer zoomed in and captured these images while being entranced by the bounce and sway of those boobs 🙂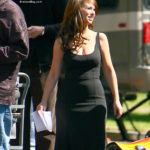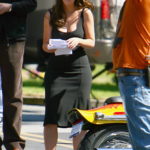 Here are a couple of rare photos of Jenn with her shirt unbuttoned all the way. Some paparazzi probably sprung wood when he caught her half undressed like this. Clearly these were taken a few years ago when Jenn was younger and umm skinnier. Boobs were smaller too!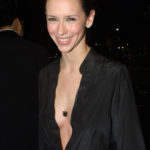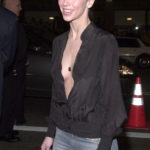 Here are a few more with just a hint of pokies. Jennifer usually keeps this girls pretty well strapped down, but occasionally a nipple goes rogue lol: