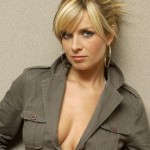 I had to look Candy Dulfer up on wikipedia to figure out who she was and why her boobies make my head spin. Well, who she is doesn't really have anything to do with why her bust affects me, but you know what I mean.
Apparently she is a 39 48 year old saxophonist from Amsterdam. I think you'll notice she has big boobs, and is well-endowed. Um, also she is braless, which rocks.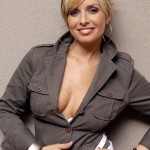 Every time I think of Amsterdam I think of the time I was stationed there as a member of an elite team of bodyguards for a famous politician. One night after work, a few of us had a bit too much to drink and wandered into the red light district. I've never been the same since. Wait a minute, maybe that was a movie I saw? Anyway, Candy definitely knows how to blow.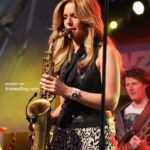 Candy does a pretty good job of covering up, but I do a pretty good job of ferreting out boobie pictures. I have, rest assured, looked long and hard for some photos of her nude, but so far she hasn't slipped up. Darn it. After really zooming in, I think we can agree this photo shows some pokies, which kinda makes Mr Happy, er, happy.
Trolling her instagram account produced some cleavage and some bikini pics. Frankly, it's a bit disappointing, which explains why a chick this hot could have "only" 35.4k followers.
She recently published a new autobiography called Sax, Candy & Rock 'n Roll. I dunno how to read, so if one of you loyal jamochies will check it and report back to me on whether there's any smut in it, that would be cool.
She is no spring chicken. She's 48 these days (as of this update, May of 2018). Her bio says nothing about a boyfriend, or a husband, or getting married. I think that means she's a-hundo percent available for a stud like me.