It's an outrage that we've never cozied up to Blake Lively here at bralessblog. Man, there is no other phrase to describe this girl other than cute. Well, hot will also do. And sexy. She is 24 years old and note she is no waif of a girl. She's about 5'10" tall and weighs a hefty 135 lbs. Let's use hefty in a good way here, no hate mail please. She has the little B-cups going on, but c'mon now everybody's boobies need some love. With that blonde hair and that impish grin, I'd be happy to motorboat the B's.
When you see her in this royal purple pantsuit, with her jacket wide open all the way down to her stomach, two questions are likely to come to mind. Well, assuming your mind is pretty perverted like mine.
1) Where'd her bra go? Hey, she purposely chose to go braless here, she is trying to tell us something. Probably some subliminal motorboat messages?
2) If she has no bra on, might she also be missing her panties? Mmmm-mm, she looks deelish. Some women look just as hot in lingerie as they do nude. In Blake's case, dangit I don't care which, just get her in my bedroom quick. I promise to pick up the dirty socks and toss out the old pizza boxes – umm I mean protein drinks – before she gets here.
Another braless purple post you'll want to check out.
Update:
Wow, she's gorgeous. Here are a couple of photos of her on a NYC street with her nipples pushing out against a dress…
A clear view of a nipple printout on this purple dress…
It's these photos of Blake and her (former?) boyfriend at the US Open that have convinced me that she actually has puffy nipples. You can clearly see the outline of her areola through her t-shirt. I like her braless look!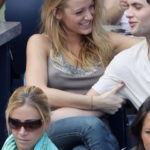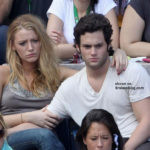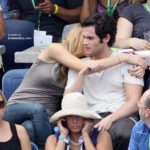 And how about Blake's nipslip? She seems to be bending down to look for her lost phone charger in the car when that wayward nipple slips right out.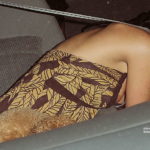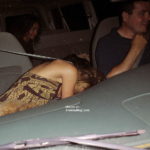 Update 2:
Here are a couple of photos of Blake braless in a purple romper. Wowzers, if this thing was unzipped any further her labia would fall out. It's astonishing how well the material conforms to her boobs and nipples. I can see every freckle, hair, and vein like it was some kind of x-ray!