If you don't know who Krystal Lyne is, trust me you are deprived. Mmm, what a cutie. Here she is, just relaxing and listening to her ipod on a Sunday morning, waiting for her friend to come over so they can go shopping. Maybe this isn't a twitter pic, I'm sure you can tell. Perhaps you are yawning, but thus far I've failed to mention that Krystal is braless, with her perky little boobies mostly hanging out of her tanktop. Oops, her legs are spread. How embarrassing for such a fine classy young lady. Just avert your eyes. No need to stare holes into the screen at the pixels of white panty.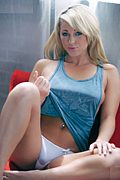 Hooray. That's what I say for summer days filled with braless cuties standing out in the middle of some field with a smile and a sweet pair of pokies. Those weeds, er flowers, are gonna make her itch. I hope she takes a shower before she jumps into my bed. Or maybe I'll just meet her in the shower. You should see what I can do with the shampoo bottle.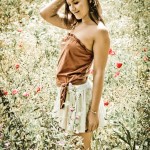 That's enough for today. Oh wait, what am I saying. It's never enough is it? We may have to gaze upon this ghostly form. Quite a bit of emotion is promoted through this photo, with an emphasis on the curvy female form, the the mystery of the hair, breasts, hips, waist, and even the unyielding yet erotic lingerie. See, I can be artistic even when I'm being a pervert. Definitely the biggest bazonkas of today's three gals, I'm sure she's gonna be a winner.