This is what you're here for. Braless amateurs. You can't get enough, can you. You are a dirty pervert, obsessed by pokies.
First we have this chick who has put her tanktop on backwards. Or maybe they just make skinny tanktops, specifically for showing the top 15% of a female nipple. The bumps on the nipple are Montgomery Glands. You will like playing with them one day, trust me.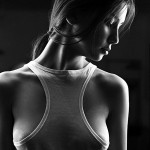 Asians are kinda hard to find. But I'm a hard worker. I'm here for you. For your pleasure. To get you all revved up. Cause I got nuthin better to do. I guess she could be Thai, or some nationality that isn't Asian and I'm being a dork. I'm not real good with that stuff.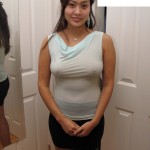 And this milf has got it going on. Big shades, big watch, big necklace, and braless b-cups for our enjoyment. It looks like she may be about to enjoy a southern delicacy called a hay ride. That's where you sit in some kind of cart and a tractor pulls you along. I can't explain the point, because there really isn't one. Anyway, carts, and tractors, and farm implements like that don't generally have great suspensions. That makes things kinda rough and bumpy. Great for jiggling the tatas… as she's about to find out.