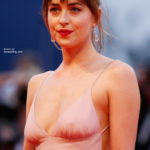 The hot new thing is the Fifty Shades Freed movie that has hit theaters. Who cares what critics say, anytime a movie celebrates a little kink between two consenting adults I'm all for it. More importantly, this thrusts Dakota Johnson into the limelight, and I'm all for her boobies. Much like a convertible top on a car, Dakota's chest has two modes. They are big enough to be squeezed up into position and -BAM!- right there in your face. And they are soft enough to be minimized and kept away from all but the most inquisitive (mine) eyes.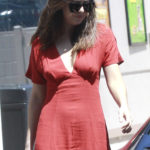 It's much easier to keep up with celebrity cup sizes than it is celebrity gossip and family trees, but here's a fun piece of trivia – Dakota's mom is Melanie Griffith, and her dad is Don Johnson. Cue the Miami Vice music! I'm guessing Dakota is a B-cup. It's possible her breast size could sneak up into C-cup territory, but I'm gonna go with my gut here. There are a few nude pictures of her out there, but due to the fabulous quantity of pokies photos out there, we don't even have to go nude to assess her nipples. She looks to have some hershey kiss nips. They may spread out and get bigger as she ages or if she has kids.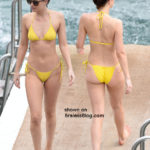 This girl loves-loves-loves to wear yoga pants. There are plenty of times where photographers catch her out and about in a casual shirt and yoga pants. Her ass is nothing to sneeze at. She's kind of a skinny gal. Research suggests she's 5'7″ and 120 lbs. She doesn't look astoundingly fit or anything, so I'd be a bit surprised if she does more yoga than the occasional pretzel contortionist hump day with her boyfriend. I think she is dating the Coldplay guy Chris Martin. You may want to check her pokies out in this wet, nearly translucent yellow bikini.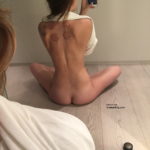 She is 28 years old. She has mainly done acting and modeling, although she did attend Aspen Community College which I find quite funny. Imagine stumbling bleary eyed into your 8am economics class and flopping into the seat beside Don Johnson's hot daughter. Other than the 50 Shades movies, I don't see much on her list that sound familiar to me:
The Social Network
21 Jump Street
Need for Speed
She's done Saturday Night Live, and she was in an episode of The Office.
Dakota is 12 years younger than Chris, which makes me think I have a chance. Right? Maybe? I suppose she likes dating older guys. You would too, if sexy-ass Crockett was your dad. She seems to be legitimately sweet and affectionate. There's always some kind of public display of affection going on between those two. She holds his hand, rubs his back, kisses his neck. (Wait, I'm turning myself on here.) At the same time, she has been rather foul-mouthed in some interviews, saying whatever is on her mind in an un-filtered, unedited way. I don't think she comes across as bitchy, just genuine.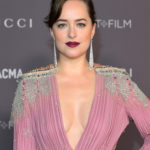 Now I don't want to seem like a high schooler with a crush, but Dakota's eyes are incredible. There's a photo of her on the red carpet wearing a sparkly pink dress, braless with her boobs on display in a deep, plunging neckline. Her hair is up, and she has deep red lipstick on with some dangly earrings. And her eyes, oh my. Maybe she gets those from her mom. It makes my heart go pitter-pat.
Although she does appear to be wearing a bra beneath this clingy leather thing, you will probably want to watch a good portion of the short four minute clip if you're like me and can't get enough of her smoking hot legs. Was she sitting like this, and was the Ellen Show filming her from this angle, specifically to drive us crazy?

If you're into the celeb pokie thing, you are probably game to check out:
Jennifer Love Hewitt Pokies (from 11 years ago!)
Carla Gugino Pokies
Lynda Carter Pokies