14 mins long | 571 mb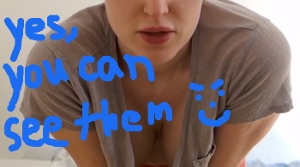 Segment 1:
This lady is in some kind of tight, deep plunging cocktail dress. She massages those massive mammaries, and then pulls her cups down so you can get a view of some very fine girls. She seem to enjoy pinching those nips!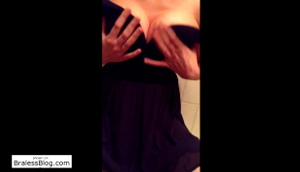 Segment 2:
This busty milf has quite a smirk on her face. I think she's smirking because she's riding in a bouncy truck, and her boobs are vibrating and bouncing. You can just see the lacy edge of her bra underneath her tanktop. She has a flush to her checks and her chest as if she's a little bit shy. So delicious…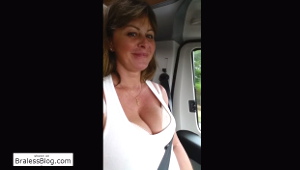 Segment 3:
I could watch this lady clean house all day. She happens to be doing it in a v-neck, loose-fitting t-shirt with no bra. Her nips are poking everywhere. Also, she has some shorts on that are cleaving up her butt and her crotch, and it's a safe bet she has no panties on. I need to hire her to do my place!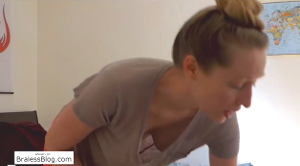 Segment 4:
This gal has quite a rack, and she doesn't mind showing it off as she frolicks in her skintight bikini. I love watcher her wet and splashing around.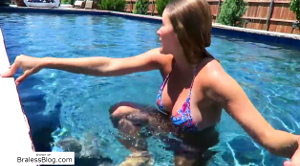 Segment 5:
Here's this crazy woman in a red bikini turning flips underwater. I swear I don't get what the heck she's doing with the camera, but it's quite exciting when she flops around and those boobs threaten to burst out of her top.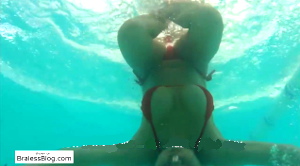 Segment 6:
Here's a famous diver who just can't keep those pokies smothered. When she starts out, you can just see a hint of nips. But by the time she's done, they are clearly visible. Maybe the water is cold?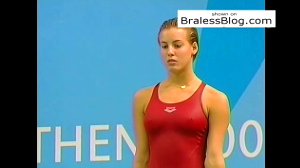 Segment 7:
A quiet morning. A soft t-shirt. Some extra large braless boobs. What's not to like here? She massages them a bit, and then let's them out of their t-shirt cage.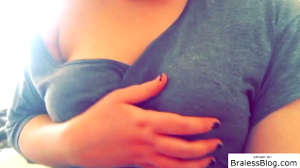 Segment 8:
We all love those boob drops, and this gal delivers like a pro. Standing there in the mirror with her skimpy panties, we couldn't have known that when she pulled that tight top up, those heavenly girls would have appeared.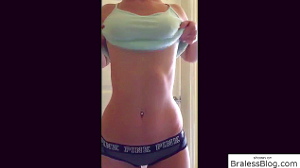 Segment 9:
This model poses in a number of different outfits, all doing their very best to emphasize her cleavage and in some cases some very braless boobies.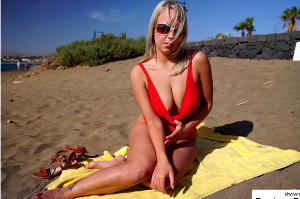 Segment 10:
This gal is very bendy, and she very much wants to prove it. I love that lingerie she's wearing, and the video is so large and clear you can practically smell her… um, essence.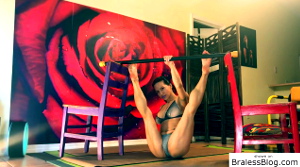 Segment 11:
Yowza, this milf has her nice natural boobs stuffed into a bikini top the size of a shoestring. She leans over the camera, letting those yummy girls dangle alluringly, and jibberjabbers for a few minutes before convincing me to propose.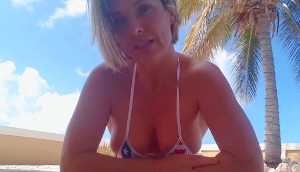 Segment 12:
An Asian girl, big chest, boob drop. That's all you need to know. Other than the fact that she looks thoroughly embarrassed to be filming herself in the mirror doing this. Amateur city, I love it.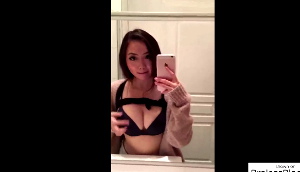 Segment 13:
The camera man appears to be taking candid shots of this gal as she walks around in a filmy, nearly transparent top. There's lots of bouncing since she's wearing no bra, and at one point there's some yummy downblouse action.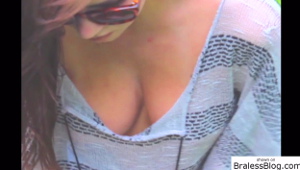 Segment 14:
This is probably my favorite segment in the video. This lady's body is simply incredible. It looks great with her cleavage popping out of the dress, but when she actually removes her clothes… I was left speechless. This is the thing dreams are made of. You will thank me after you see this.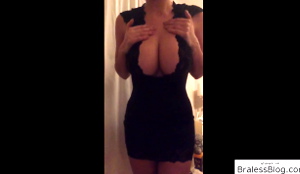 Segment 15:
This little cutie just can't stand still while she's grilling. She dances and wiggles the whole time, and her body is made for just that!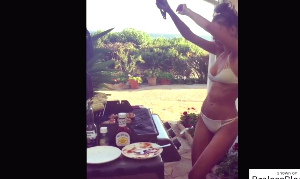 Segment 16:
A braless blonde reporter narrates a story and interviews some guys in a garage with her breasts halfway hanging out. These guys have quite a bit of self-restraint to keep from staring at her nips while talking to her.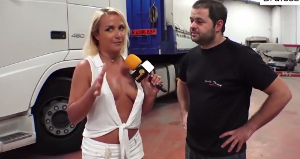 Segment 17:
Here we have a dude's girlfriend with magnificent DD's in a tanktop helping him do some work on the car. She doesn't seem to mind being filmed, and if I had to guess, he asked her to spice his video up a bit with the bewbz.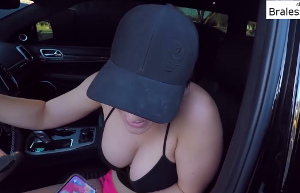 Segment 18:
I don't know who this tennis player is, but I'm surprised she can even play with boobs this big. Seriously. Even compressed down to the density of plutonium, these things still bounce around in the sports bra like they are about to achieve liftoff. If I were here, I would consider giving up on tennis, and maybe pursuing a career in the movies.