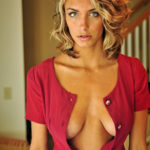 If you knocked on somebody's door and they opened it looking like this… would you faint? Squeak like a mouse? Hyperventilate?
Damn, she is incredible isn't she? It's not just those big braless boobs hanging there with her red dress open. It's that come-hither look. Like "Hello, Mr. Delivery Man. I'm glad you rang my doorbell. What's that, you like my dress? Well thank you. I put it on and left it unbuttoned hoping someone like you would come along to inspect me."
She's gorgeous: hair, eyes, body, yowza.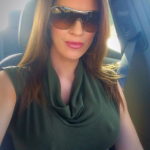 This lady might qualify as a MILF. And by that I mean I'm only uncertain about the "M" part; she certainly qualifies for the "ILF". I really like how she decided to yank her bra off and snap a selfie in the car. Those big boobs are only exceeded by those big pokies, and her thin cotton dress is perfect for the occasion.
I'm a little disappointed that she didn't tighten that seatbelt right between her boobs though!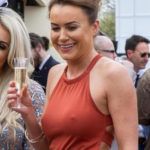 Well, well, well, what a happy little camper. This gal chugs about half a gallon of champagne and sort of forgets that her nipples are poking halfway through her expensive dress. She has that alcohol buzz going, and the I'm-tipsy-and-happy smile on her face. Continue reading →