No relation to Rasario Dawson, but bearing a striking resemblance to Nipeena, the ancient Greek goddess of bralessness, is Dawson Miller. Don't let those dimples fool you, this girl jiggles as much as she giggles, and whewwwww she makes me both manic and exhausted.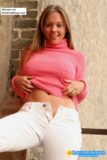 _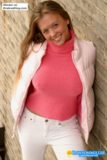 Related: Dawson Miller
Following along in the same, eh, I guess we could call it tanktop theme, is Chrissy. Chrissy does some naughty things, but we will try to kind of skip over that for now and present the R-rated version of her pokies.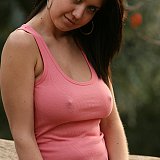 _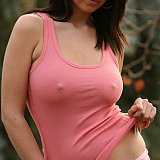 Related: Jordan Carver Braless Tanktop
Blamo – Braless
Tanktop Coma
Ah, what the hell. Let's stick with it – as Joe Paterno says, if it ain't broke don't fix it. Tanktops are serving us well here, so we'll gander at Hailey. The pigtails are a little much, but hey if you are actually taking the time to look at her hair you must be in the wrong place you dig? I personally and daydreaming about getting my nose between those two ripe, perky twins.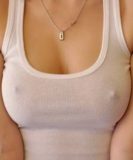 _