First up, batting lead off, is a pretty blonde in some kind of blouse or tanktop that is unbottoned and falling open sinfully far. I can't see her bellybutton, but I can see everything else. And it looks yummy. Makes me think about the other day, when I was walking into the gym, and the girl behind the counter was bent over the computer typing something into it. When I walked up to scan my membership card, I had a view down her shirt so far that I could see her bellybutton. She asked how I was doing, and I responded "FANTASTIC!"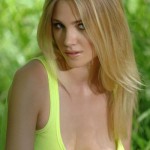 If you look close enough (I tend to examine every single pixel, sometimes while moaning and massaging the screen), you can see this babe decided to plaster her pokies with some pasties before she went out in this woefully tiny tube top one summer day. The pasties are kind of a braless buzzkill, but you have to give her credit for daring to leave this gigantic girls unrestrained. Also, kudos to the photographer, who found what must be the perfect viewing angle.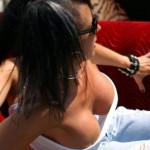 Wow, what a body. Ignore the semi-busted face/teeth and admire this pink bikini clad body. Those pokies appear to be the terminal type. Not as in, watch out she's dying. But as in, all day every day terminally pokie nips. Going on a beach vacation with her would be a sure way to make you wonder if the little blue pill had finally done what it was rumored to do and given you an erection lasting more than four hours.