Let's get it rocking and rolling here. Sometimes it really should be about quantity over quality, and that's what we're gonna be all about today. Got a lot of ground to cover, and a lot of braless babes to uncover – let's cook wif sum gas.
Bikini pokies. Let's all plan to set on the beach this summer in our rusty webbing chair with a pair of mirror sunglasses on. We will hang our heads a bit, kick back and sprawl out, pretend like we're asleep. But really, in the creepiest way possible, we are watching all the juicy hunnys go by with their cold little salt water pokies.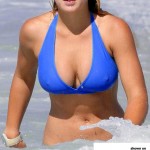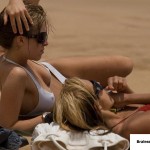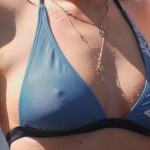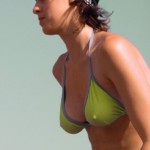 An in honor of St Patrick's Day (so I'm a little late, sue me), we'll take a gander at some braless babes in green. Babe number one could stand to lose the hat, babe number two needs some bright red cherry lipstick to make me think about, um, her lips.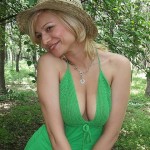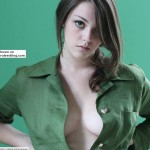 Plus, we have Carlotta, posing in her kitchen for some candid shots. Barefoot, short little shorts, busting out of her top. Dayum, makes me happy. Hot enough to marry, sweet enough (sometimes) to take home to mamma, patient enough to work with me while I save up and move out of the trailer park. And when she gets naked, oh the body.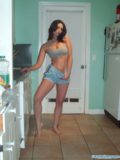 _