This chica is maybe a little latina and a whole lot hot. Somebody done tore up her longjohn shirt – tore it right up I tell you. Which is a darn shame, since it's torn up right between those luscious melons, and she seems to be so hot and sweaty that her white shirt is wet, which means we can see what's underneath it. She ain't smuggling raisins, more like some big walnuts. And yes, that may be a set of red lips tattood on her butt-ocks. I would kiss it right there too if she ever got within a bout a mile of me.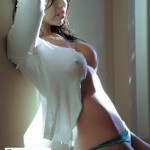 And if you grew up a redneck like me, you at some point heard your uncle, or maybe your next door neighbor, or maybe the toothless guy at the grocery store who carries your mom's groceries out mutter "she been rode hard and put up wet." The saying probably originated about horses. You know, sweaty horses can catch a deathly cold (I'm making this up). But it's very applicable to young ladies like this. I would definitely take her to a Halloween party and try to get my hand down her pants while she was ordering a drink.

Fresh, and pure, and smiley. These are the types of girls I've have been known to corrupt. Not to mention braless girls in v-neck t-shirts. They are like a specialty of mine. Puffy nipples I can deal with. Not my favorite, but listen up Beavis the world is a big place and you gotta play the hand you're dealt.