This gal certainly comes close to violating our no nudity rule here on BralessBlog. If you look close enough, you can see she has a little bit of a nipslip going on. Perhaps she has some regrets about cutting such a fine tanktop like that so short? Measure twice, cut once, that's what my grandpappy always used to say. For after you cut, you can't put it back. It's gone forever. And your nipples fall out. The photographer seems to be saying:
Hey, did you know you cut your shirt too short and now I can pretty much see your nipples? They aren't going to let you in the car show like that, so you probably won't get paid. No sense in trying to stand real still, the slightest bounce of your braless (and yummy) boobs is going to pop them right out.
And the girl seems to be saying:
F*** you!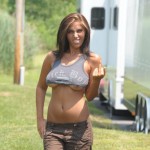 We can all tell what this young lady had done. I'm not sure I get the whole piercing thing. Then again, I have a mullet and drink Busch beer, so I can't be described as hip. I tend to nibble on the nipples, and it seems like that would be a bad combination with piercings.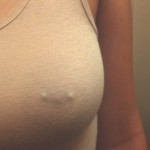 Well she is thirsty and sweaty and quite perky, all great qualities when paired with a tight red sportsbra. Those things look very hefty, too bad we have not front-on view. Need this in 3-d.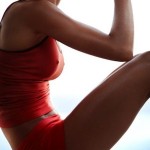 Wow, I am loving this pic. Kind of an amateur candid photo that catches a blue-eyed milf thinking dirty thoughts in the local lingerie store. Maybe she's on vacation, and didn't feel like she should have to get up out of bed and put a bra on? And yet here she is, shopping for bras and thongs and g-strings, and things that make us moan with pleasure. Those boobies look to have some real potential. That little brown top is doing us a serious favor.