I know everybody is super-upset that it's been like 3 weeks since a post has shown up on their favorite naughty site bralessblog.com. But don't worry, I still love you and I still love boobs as much as ever. It's just that life gets busy, and I just daydream about getting some more photos or videos on here, all to no avail. Andy anyway, the last post was so badass it should've satisfied everybody for a long period of time.
But here I am! Ready to rumble! I'm agile, hostile, and mobile!
We should start off with braless billiards. It's not that she is stunning in her hotness, or amazing in her fitness level. But what young stud hasn't been out in a bar shooting pool somewhere when SHAZAM! you suddenly realize some lady's hooters are falling out of her top and you just can't tear your eyes away from it. Awesome. That's part of the allure and the curse of being a guy and having a nutsack and being forced to deal with testosterone.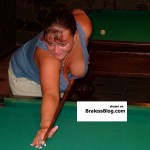 This gal is very arts-fartsy, and has what appears to be delightfully nippy nipples. Close enough to a tank top for me to categorize it as such, although that really kind of looks like an expensive version of a wife beater.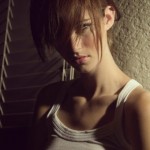 That could be a DS, or an ebook reader, or some kind of geeky recipe holder for all I care. Either way, this beauty seems to have some nice soft breastpillows just aching for my attention.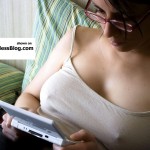 Ok, sound the trumpets. It's a first here on bralessblog – a braless babe in a turban! I don't know what's going on here, but maybe she's doing a tourist thing in Egypt, and it was so damn hot she couldn't bear to wear a bra. But if it's anything like my shweaty sack, not wearing the underwear means that sweat drips down and gross me (and others) out.