You guys already know I like Lynda Carter, aka Wonder Woman. Here she is sporting a tanktop (or whatever this thing is called), a pair of natural D-cups, and some pokies.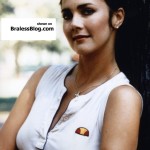 2017 Update…
Here's another shot of Lynda. In this one she is wearing a white blouse that appears to be, err, see-through. Of course she has the top three buttons undone, and we allll know what that means. I'm not sure what to think about those nipples. Is this fake? She might as well be nude.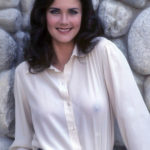 And this photo was clearly taken on the set of Wonder Woman. This little white outfit she's wearing suggests the scene was shot on the mythical island of Lesbos. Wait, is that what they called it? The island where Lynda and all the Amazon ladies lived by themselves and presumably helped each other out with the magical lesbian scissors?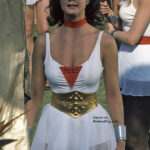 As a kid, watching Lynda twirl her way through each show was enough to make my eyes roll back in my head. If there was even a hint of nipple, it was enough to put me in the bathroom for an hour.