Let's put this lady together, shall we? Give this situation a little analysis:
hair-do bandanna is a little country bumpkin, a little hoodlum
rolled up tanktop is white, thin, and just damn perfect
nice d-cups, possibly DD, possibly fake but with just enough droop to make us slobber
tummy is tight enough to nibble on
little black thong that might've fit better a few years ago
hips and thighs are built for action
skintone says "HI!"
big hoop earrings tell us she wants some attention
did I mention the pokies?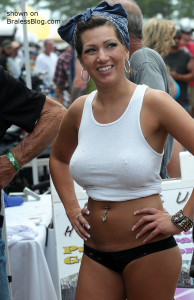 This kind of reminded me of this post, which I just reread and laughed my ass of. I'm kind of funny when I want to be aren't I?? 🙂
Update:
We might as well add a little extra goodness and celebrate the finely aged beauties while we can. But I have to be careful and cull out *only* the material pertinent to our title 🙂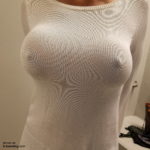 Holy mackerel, would you look at this lady? My experienced eye tells me the droop angle of her boobs aren't enough to be natural. But a pair of bolt-on's is still better than no pair. And CRIKEY – those nips! Her pokies are literally mercilessly assaulting that poor white sweater. I realize you can't see her face in this photo, but judging by the neck wattles, she does indeed quality for milf status.
[Sidenote – THIS is probably one of our most popular milf posts of all time.]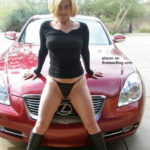 We may also want to touch base with this pretty cougar. Fresh from the hair salon with a bit of a pixie cut and a color to hide the gray. Leaned up on her old man's Lexus; it ain't fast but it's luxurious. Knee-high fuck me boots, a teeny-tiny pair of panties that already appear to be wet. And yes, oh yes, a thin cotton shirt with no bra to show off some 50 (?) year old pokies. I have to question whether she leaned back, propped her boots up on the bumper, and spread her legs after this photo was taken.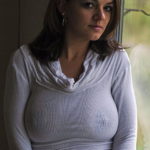 I realize this lady is not re-donkulously hot. But you guys know the Mona Lisa, right? She is the lady in that famous painting that has that certain smirk, that look on her face that says "I'm gonna rip my clothes off and throw my average but very womanly body on you until you cry"? That's the vibe I'm getting from this gal. Now, she's not a grandma, but she's no spring chicken either. The age thing stops mattering when you realize she has a sweater/hoodie full of DD's that are sagging I mean begging for your touch.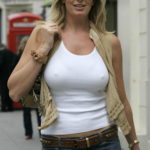 Ignoring the whole "jeep hair, don't care" look this mamma has going on, I'm transfixed by her chest. You can actually see the outline of a bra underneath her white shirt, but apparently it just doesn't stand a chance at containing those raspy nips. You would be smirking too, if every guy on the street that you walked by drooled or bonked their head on nearby lamposts as they were unable to function in your milfy greatness.