It's easy to see why we've made such a big deal about Lisa Rinna's pokies over the years. To be so old, she has an amazing rack. Boobs are important, but nipples are an undiscovered treasure. Not just anybody can earn a BralessBlog A+ for nipples aesthetics. But our gal Lisa certainly qualifies.
She has been pretty quiet lately, not making a ton of appearances on the red carpet or flashing those mammajammas around on vacation.
I have absolutely no clue wtf she's doing with the whole spray tan thing. If I had to guess, I'd say these photos were staged. Who gets a spray tan outside in a pop-up tent with a bikini on? I have personally witnessed a fitness model getting spray tanned just before a competition. They did it in a hotel room, and she was buck naked.
I would think Lisa would strip everything off, and even shave her muffburger before getting bronzed. I would be happy to do this for her. The bronzing or the shaving.
I gotta admit, the lips (on her face) are a little much. I think we sit in judgement on older gals who get plastic surgery without considering what they would look like (saggy and old) without it. Regardless, she doesn't have to get my opinion before she gets worked on. I'll take this opportunity to say: regardless of her age, I'd lie to work on her! lol
In the second photo, she's holding her hands up, as if to tell me "stop you maniac, I've just successfully orgasmed for the thirty-third time, now please get your face out of my crotch." Or maybe I'm wrong.
That is a might flat stomach, indicative of the fact that she trains and abstains (from eating junk food). It could also imply that she gets lipo every few months, but hey I could use a little myself. World-class pokies, Lisa; BralessBlog says to keep it up for your fan(atics).
Update:
I think this is a recent photo, but it seems unlikely because her lips look like maybe 20% more normal? Maybe she somehow shrank them overnight or something. Regardless, I like the braless look.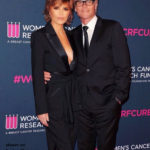 Update 2:
Yeah, she's getting old. Kind of like a stick-figure caricature of her former yummy self. But as it turns out, she still likes to stomp around braless and she kind of looks less wrinkly with a mask on…