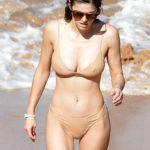 You are here for her boobs. I get it. Me too. Today I am delighted to cover a Hollywood Goddess by the name of Alexandra Daddario.
Truth be told, I had no idea who this chick was. I read a post on a website about this guy's favorite busty actress being Alexandra, and of course had to check it out.
She is 31 years old, so she's no spring chicken. She has dark hair with blue eyes, one of my favorite combinations. She actually looks like she could be a little swarthy, although I'm sure she takes care of the body hair. Nobody wants a unibrow or braided arm hair. She could probably teach Alyssa Milano a few things? Alex's biography suggests she is of Irish, Czech, English, and Italian descent. That Italian heritage can really grow the hair, lemme tell ya. I digress.
She is 5'8″ tall, bigger than I prefer. And she isn't tiny, reports call her 136 lbs. But she is one of those (fairly) skinny busty girls, praise tha lawd. The interwebz claim she is a D-cup, but my very expert eye says it could possibly be DD territory.
Let me teach you something. This lesson in sociology is coming from Dr. BralessBlog. There are two distinct categories of ladies with D-cup boobies. Natural, and enhanced. Unlike C-cuppers, who exhibit a number of varying personality traits, D-cuppers are quite binary. They are either proud or they are shy; either demure or exhibitionists. Most ladies who grew up with natural D-cups are shy about it. Those boobies have always been there. They might have been teased about it when they were young, they were always getting in the way and bouncing around unnecessarily. This would typically cause unwanted attention, so they try to keep them on the down-low. Now obviously, if you paid for D-cups, you really wanted them. Girls who are enhanced tend to like to show them off.
I'm 99.9% sure Alexandra's boobs are natural. Just looking at a few of the photos I've posted, you'll see that she isn't in that overwhelming majority of naturally busty ladies who like to keep them under wraps. She frequently runs around braless, and shows under boob, cleavage, sideboob, you name it.
She actually won the role in Texas Chainsaw 3D over Jessica Biel, likely because: boobies. She was also in Baywatch and Percy Jackson. She was also in my shower when I was dreaming last night. There are plenty of hot video clips of Alex around. If I get slightly less lazy, I will eventually try to splice together another hot movie for you.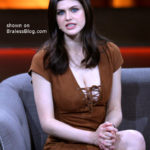 We should start out with her in this dress. Is it brown? Corduroy? Okay, who would have guessed that was hip. But hey, who cares, look at that pale white cleavage! Yes you can get in there. Yes, it's like a dream come true. She is crossing those legs and clasping those hands like she is demure and not hellbent on driving you insane with her bewbz. But don't be fooled.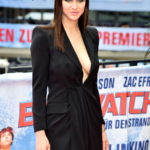 What about a lady who will show up on the red carpet braless in a dress like this?? What gives? It's like a Columbo raincoat that is made of thin material, a few sizes too small, and safety pinned together over breasts that are gargantuan and unfettered. Yep, I hit the nail on the head: exactly like that. Hey Alex, Columbo wants his overcoat back, and if this forces you to actually buy a designer dress to wear, so be it. But please don't take revenge on us by buying it from the Baptist dressmaker down the street and exposing no flesh.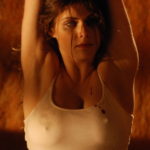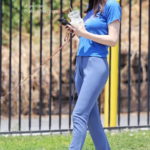 We need a couple of pokies pictures, because just the sight of her big, white, soft boobs aren't enough, naw we are gluttons for punishment and want to have intimate carnal knowledge of her nips.
Update: Ya'll are gonna want to see her bosoms in motion (edit – the original video was restricted by the youtube nannies, here's a substitute)

Update 2:
I added that photo at the top of the post of Alexandra in the wet bikini. And below are a couple more. She has a delicious body, and once her bikini got wet it's practically see-through!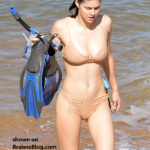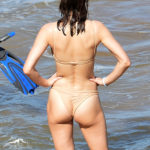 Update 3:
Apparently youtube deleted the original video I linked to. Not surprising, since youtube randomly deletes shit all the time. However, I'm awesome, and I found an even better video to replace it with. It has 4M views, and there's a good reason. Lord, she is gorgeous and has a rack for the ages. Also: pokies.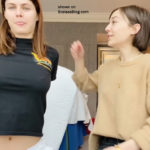 Update 4:
Another video got nixxed by youtube, so I swapped out links with another one. And here are some more delicious pokies. Alexandra obviously has never had a kid, she has no hips whatsoever. But she makes up for that by having like double nipples.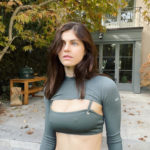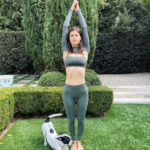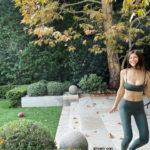 Update 5:
Alexandra went out to dinner in this strappy dress, and she clearly decided to do so with no bra. There were a couple of really nice views of her all-natural boobie cleavage, and I knew we could all appreciate them here for an update.