Women the world over should STOP buying their dudes chocolates and stuffed animals and socks, and start giving them boobies for Valentine's Day. What (hetero) man wouldn't want some jugs for a gift?
I realize I'm a few weeks early, but we might as well broach the VD topic. If you've been trying to recover financially from all those damn Christmas presents you bought, forget about it cause you need to go buy some dumb Cupid stuff right away.
I've been busy lately, hence the sparse posts. I know, I know, I promised you more videos. All the braless fans out there seemed to have enjoyed our most recent December vid. I'm working on it, it just takes time to curate material of that caliber. If you have clips you think I should include, just contact me.
As you probably saw, I updated our most popular Charlotte McKinney post. I can't seem to get enough of her 32F pale white chesticles.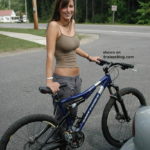 Cupid would certainly approve of this busty young lady with her bicycle. Those flip-flops make me think she isn't a serious cyclist, but as tight as that tummy is she certainly looks fit. She appears to be well-endowed, with that stringy tanktop barely able to keep her girls from popping out and giving innocent bystanders black eyes. Watching her climb on that mountain bike and pedal her little heart out, setting those boobs wobbling to and fro, would be oh so delicious.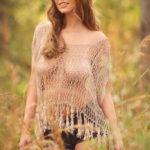 Although the bike girl knocked me out with her bust, her face was just average. That's not the case for this goddess. She's clearly some kind of model, and I can tell just by licking my monitor that her hair smells like raspberries and her skin like vanilla. Vanilla perfume is like the universal spritzer for strippers, but I digress. The droop of this girl's bust is what sets my Valentine's Day heart to pounding. She's clearly all natural, and that's nearly too much to bear when I think of squeezing them together with my hands and stuffing my face between them.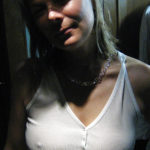 It is never a bad time to find some amateur pokies. Granted, this lady is a bit of an older milf, but like a fine wine I think she is just getting better with age. Based on my careful analysis, she has some very natural and still mostly perky c-cups. The thin cotton of that top just doesn't stand a chance against those aroused nipples. I don't think it's cold in there, as her skin is as smooth as glass with no signs of goosebumps. Maybe she's just horny. Or maybe she just pinched them full effect. Or maybe both. She has her head cocked sideways and her chest pushed out like she is ready for some serious attention.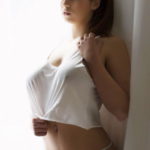 I might as well wrap this up by pledging my Valentine's heart to this gal, with her big pair of boobies. Check out how she tugs that top tight between her breasts so they really stand out. See how the light is sort of shining behind her and making her top very slightly transparent? Oh, and her nipples – chubby and ready for some bites and licks. I can't help but stare at those tiny little panties and wonder what she has ensconced beneath. You know what she needs for her VD present? A jumprope! And a hula hoop. Need to get this gal shaky those bazonkers all over the place, her ponytail flipping and twitching around just like her boobs.