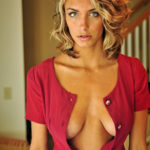 If you knocked on somebody's door and they opened it looking like this… would you faint? Squeak like a mouse? Hyperventilate?
Damn, she is incredible isn't she? It's not just those big braless boobs hanging there with her red dress open. It's that come-hither look. Like "Hello, Mr. Delivery Man. I'm glad you rang my doorbell. What's that, you like my dress? Well thank you. I put it on and left it unbuttoned hoping someone like you would come along to inspect me."
She's gorgeous: hair, eyes, body, yowza.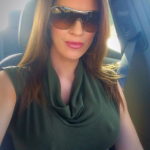 This lady might qualify as a MILF. And by that I mean I'm only uncertain about the "M" part; she certainly qualifies for the "ILF". I really like how she decided to yank her bra off and snap a selfie in the car. Those big boobs are only exceeded by those big pokies, and her thin cotton dress is perfect for the occasion.
I'm a little disappointed that she didn't tighten that seatbelt right between her boobs though!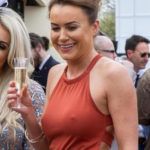 Well, well, well, what a happy little camper. This gal chugs about half a gallon of champagne and sort of forgets that her nipples are poking halfway through her expensive dress. She has that alcohol buzz going, and the I'm-tipsy-and-happy smile on her face.
It's possible that her blonde friend standing beside her slipped into the bathroom with her and groped her. In fact, I think that's highly likely. Rug munching and braless party dresses tend to go hand in hand, this is a factual statistic.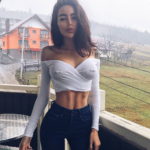 I admit, this photo of this girl is kind of ridiculous. Maybe she's had some cosmetic surgery? I say that because her waist is the size of my manbun, her boobs are sticking straight out with an anti-gravity tilt, and her lips look like she was just stung by an angry cloud of killer bees. Not that I'm complaining. I'm actually not capable of thought when gazing upon pierced nipples poking through a tight white shirt.
You know what we should call these? Angrynips. A new term, first coined on bralessblog. If her nipples got any angrier, they would stage a walkout protest.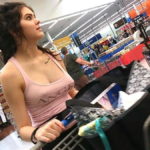 Ahhh, Walmart boobs. I'm going to create a special section one of these days just for Walmart boobs. Probably I will be too lazy, so don't get your hopes up. It's a numbers game. Yes, the overwhelming majoring of chicks you see in Walmart are hefty and unattractive. But there are so many bazillions of people who shop there, you're guaranteed to eventually find someone yummy.
Like this gal! Who decided it would be entirely appropriate for her to stretch a tiny peach-colored tanktop that was too small for her back before she forgot and left it in the dryer for three hours over her incredible (but slightly droopy) D-cups and traipse around the store.
Those nipples are kind of mesmerizing, aren't they? Try not to be distracted by the elegant tattoo she has inscribed on her left boobie. I think it reads "Virginal Angel". The messy hair makes me wonder if she might be wearing a pair of her boyfriend's boxers behind that shopping cart with no panties.