Although she's 49 years old now, you may remember Kristy Swanson (and her braless boobs) from a few years ago.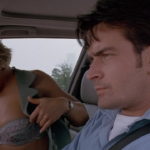 I guess most people would remember her from Buffy the Vampire Slayer. Not me, though. I remember her from the movie The Chase with Charlie Sheen. In this movie she plays a wealthy lady who gets kidnapped by a criminal and they go on a long car chase. Disregarding any silly and nearly useless plot elements, Kristy looks like a busty bronze goddess in the movie.
It was released in 1994, I think it was rated R, and I just remember seeing it in the theaters and nearly howling with sexual frustration when she whips her shirt off and climbs into Charlie's lap while he's driving that car.
Kristy did some stuff before, and some stuff after, but nothing that ever woke my willy. There are a number of juicy tidbits related to her life though.
She started dating Alan Thicke when she was 17 and he was 40. Yes, I'm talking about the Growing Pains dad and talk show host. That dude was a hornball and dated/married every hot model chick he every came across. I digress; I think Kristy clearly had a thing for daddy types.
Also, she was arrested for assault in 2007. Some crazy deal where she stole this lady's figure skating husband when they met on a show called Skating with Celebrities, but then the two got in a cat fight later and beat each other up. I think I've seen an adult video of this where the two beat each other with pillows while partially clothed and in prison?
She did have a baby, so clearly we are now dealing with a milf.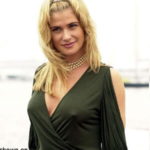 I've noticed this thing about Kristy where she squints her eyes. This could be because she is trying to look cool. I do that all the time. Doesn't work for me, but then again my boobs aren't awesome like Kristy's. Or it could be because she needs glasses and she refuses to wear them. Again, kind of like me.
None of that matters when you consider how wonderful her busoms are. It really doesn't bother me that she's turned into a Hallmark movie queen, because frankly I fell in love with her cleavage back in 1994 and have never recovered.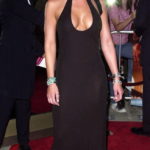 I'm pretty sure she posed nude for adult magazine one time, but I'm not going to post those photos because I'm trying to be angelic today. I've posted enough photographic evidence to convince you that her c-cups are truly happy bags, and she deserves her spot on the list of famous braless celebs.
If not, here's a clip of the movie trailer. Knowing my luck with youtube, they will delete the movie from this stranger's account and call the FBI and also tell my mommy on me.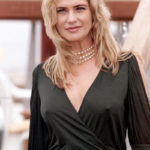 Seriously, these pokies pictures of her make me want to whine like a hyperventilating dog. Those nipples look voracious, possibly life-altering.