The thing I want for Christmas cannot be wrapped, and doesn't come with a bow on it.
You can't buy this at a store. And it never comes with a receipt.
I like it when they are squashed together, and I like it when they are hanging free. Yes, yes, of course: I'm talking about downblouse boobs.
I have posted some epic shit over the years about this phenomenon. It sort of obsesses me. Regardless of how horny or how satisfied I am, if I happen to get flashed some accidental cleavage, I'm absolutely gonna luck and slobber. I might as well get this off my chest: I'm all kinds of worked up right now, so I'm going to release a veritable treasure trove of downblouse photos, and I'm going to gloat and comment in detail about them, and you're welcome to come along for the ride.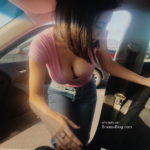 This young lady was really not thinking of her audience when she selected a low-cut top as she headed out the door to go vacuum her car at the local car wash station. She has some nicely-sized, white, soft boobs doesn't she? They are kind of pushed up and spilling out her top, and we can all rest assured there were a bunch of dudes checking her out as she was bent over.
While we are on that theme, yep here's another girl cleaning her car out while her boobs are precipitously close to wiggling out of her tanktop. Those straps look awfully thin to deal with melons of that size. She may want to rethink things, wear something a bit more supportive next time she decides to bend over in public. Apparently there are creeps who hang out with cameras at carwashes looking specifically for this, and I salute them.
Another theme that's new to me is the dishwasher downblouse. Thank the lord this is really a thing. Women the world over are forced to bend over to load and unload the dishwasher, and predatory/perverted dudes like you and I stand ready to document their boob flashes as they do so. What a damn fine idea. Why did I not think about this? We should give the guy who invented a dishwasher and decided to install it on the floor a goshdarn medal.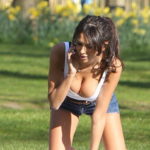 Candid downblouse pics are definitely a personal (and fan) favorite. This lady was pretty busy trying to set up her picnic in the park while talking on her phone, and didn't notice the dude with the telephoto lens snapping photos of her cleavage. And wow, does she have some cleavage. With her down on all fours like that, and her hair in her face, and her boobs wobbling around, I'm going to have to go take a cold shower here in a few minutes.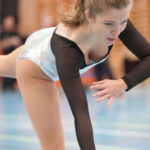 Another rare photo I don't think I've ever seen before is a gymnastics downblouse. This girl is super cute, and I'm digging the ponytail. Her little boobies are doing their best to say hello to us, and the angle of her split and the camera and the position of her leotard are all just right so that…. ahhhh, we get a nice glimpse. I like 'em bendy, and I bet this chick can tie herself into a pretzel while smiling and eating a yogurt.
How about students. Raise your hand if you like checking out pretty little coeds who aren't smart enough to keep their boobies covered up. What's that you say, you have one hand in your pants and one hand on your mouse and can't raise a hand? I totally understand. And it's not going to stop me from posting up these classroom cuties. Schoolgirls have a naughty reputation, and some of it is well deserved.
I have turned comments off, because people spam and annoy the shit out of me. But if you guys stumble across some rare downblouse videos or pics you want me to post here, just use my contact form and I'll try to post it!