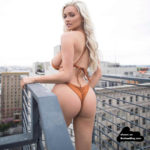 I know you guys/gals think I've fallen down on the job since I have never posted about Lindsey Pelas before. You keep writing in and making special requests. Now that I'm on the "big natural boobs" kick, it's definitely time to cover (uncover?) her.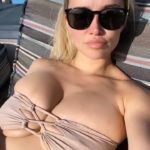 And before you start biting your fingernails and wondering, yes they are all natural. She has admitted that she wears a 30HH bra (yowza!) and despite the fact that her knockers cause her lower back pain, she swears she is never going to have them reduced. And you knowwww what I think about that.
The last few years she has been known as a social media influencer. She considers herself an entrepreneur, but hey let's not be so quick to grant that title. She says that because she's published three different calendars of herself. Look, when you have a body like that, it ain't hard to sell calendars. And does selling calendars make her an entrepreneur? Anyway, she has 9.1 million followers (as of this post date) on her Instagram account. That is a metric shitton.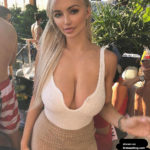 Fun fact, she actually rose to stardom posing for Playboy. She was their girl of the month for 2014. She's been keeping those tittays under wraps since then, but I sure do like looking at them. She is 5'3″ tall, and as you probably already know I have a thing for shorties.
Although she earned a bachelor's degree in history, she has worked as a yoga instructor and a bartender. Now can you imagine seeing Lindsey in little spandex things teaching people yoga? She was probably enough to break the all-time gym membership record.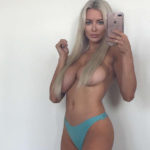 She was one of nine kids. No, that's not a typo. She had five sisters and three brothers. You gotta think her mom is as hot as she is, and her dad just couldn't stop with the D. Plus, maybe her mom is Catholic and doesn't believe in birth control.
I spent some time looking around, like the creep that I am, for pictures of her mom and her sisters. They pretty much stay out of the limelight. I saw one headshot of one of her sisters, who was not particularly hot.
Here's a video that very thoroughly inspects her jiggly boobs 🙂

I thought this was a good behind the scenes and candid video. She makes me laugh!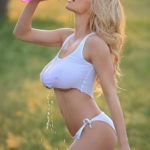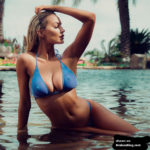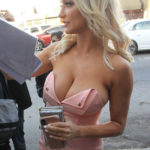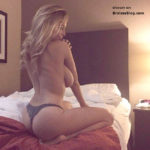 If you like Lindsey, you'll probably like Charlotte too 🙂