As I've aged, I've gotten even more perverted. But you don't want to hear too many of these specifics. More to the point, I've developed a much finer sense of fine boobies.
Now I am not fancy enough that I would vote a lady off the island just because her breasts weren't perfect. In fact, it's just the opposite. I kind of have a thing for imperfect boobs.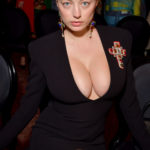 Don't take this as an anti-implant rant. Fake boobs can be awesome too. But certain big, soft, natural boobies are… sigh. My fave.
Well allow me to introduce you to Caroline Vreeland. And yes, before you ask and wonder and pontificate, they are real.
Her boobs are both large and shapely. Also, I like her nipples. They are my kind of nipples.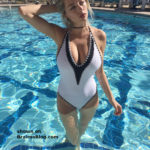 Other than those knockers, I really didn't know much about Caroline. So I did some research, only to find she is supposedly sexually fluid. C'mon now, I'm old and senile and don't know about these things. I know what sexual fluids are, trust me. I'm real familiar with those. But what's this fluidity thing?
I guess back in my day people would call that bisexual. As in, people who play for either team. Gals who like the D and also like to rug munch. Not that there's anything wrong with that.
Whatever, regardless, apparently (that little baby jesus) that means Caroline also likes to run around with those boobies of her halfway hanging out. Mercy!
Let's talk about my favorite photo of her. At least my favorite for today. It's this one, where her bikini is stuck to her, and she's walking out of the water like a braless goddess, and her boobies are swaying to and fro. Wow. Dang.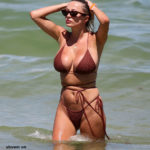 How about a video…

Another natural celebrity honey:
http://www.bralessblog.com/2019/10/20/shailene-woodleys-boobs-make-me-diverge-on-perversion.html