Milfs aren't for everybody. Some prefer much younger ladies. Hey, I don't discriminate.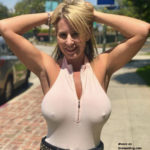 Some will say milf boobs are too saggy, not perky enough. Well "too" is a subjective term. This gal has a few years on her. And yes, her mogambos are a little droopy. But seeing her fill in and stretch out that tanktop puts me in my happy place!
And judging by the smile on her face, she certainly enjoys offering up her braless yummies for us to inspect.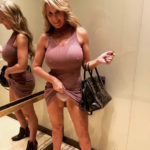 I'll admit there are a few things here not to like. The 1980's style feathered hair ain't doing it for me. The cottage cheesy thighs ain't my favorite. And the moderately fakeish rack, well I guess I'm being picky. Especially given those awesome pokies.
I certainly have a thing for dressing rooms, and this lady is hitting the sweet spot. If you like that genre of braless, you may want to check here for my post in 2016 (and subsequent updates).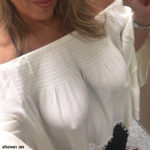 I think I'm going to come out with a line of clothing and call it something like "Boob Enhancement Wear". The first shirt that I release is going to look a lot like this one. This milf is wearing something that is less about a shirt and more about thin gauze that sticks to her every pore. I think I can see the DNA in her pokies.
This actually makes me think about her walking down a sidewalk somewhere with her boobs wobbling to and fro. Mmm, a delicious thought.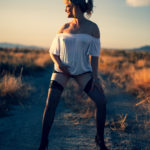 This cute little mamma, or should I say grandmamma, is thoroughly enjoying being a "bad girl" and posing for her amateur photographer husband out on this desert road.
On a scale of one to ten, "bad girl" may not be busting out some stockings and getting braless while skimming your pretty fingernails over the crotch of your panties. I can think of several things to help her move a few more notches towards bad, haha.
Sometimes I like to include little news blurbs, especially if they are related to boobies. With the Covid-19 pandemic, many people are newly working from home. This headline reads "Women celebrate working from home braless". Now you know that's my kind of news story. A couple of quotes:
Other memes celebrated going braless with "FREEDOM" quotes from Braveheart.

One tweet read: "Today is my first day working from home – and so far, the biggest perk is no bra."

And another said: "On the bright side, I don't have to wear a bra while we are self isolating…"