You guys probably noticed I got kicked off Vimeo. So I guess Youtube and Vimeo don't like my rated-R perversion. This put me into a deep depression, and I was unable to post for a few days while I wallowed in my misery.
One thing that might cheer me up is some more braless cameltoe action.
I could do without this gal's giant fake eyelashes, but everything else is oh so fine. That rack she has that's just barely contained in the tiny tanktop is whoa-mercy-awesome. And hello there, it's nice to see your pokies. But of course my eyes flow on down that skinny waist and zero in on her craaaazy cameltoe.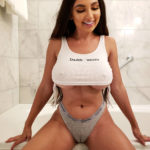 This girl's mouth lips look beestung and ducklike and quite engorged. And they are only matched by her crotch lips, which also look a wee bit swollen. It makes me want to kiss them and make them feel allll better. She is a bit exotic looking anyway. Her boobs aren't massive, but they are certainly on full display, as are her pokies.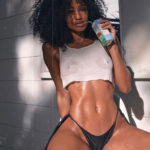 The top this little hunny is wearing is admittedly close to being a bra. But I don't think it's cheating to include her in this group of crotch-esque emphasis. Her privates are quite intimately familiar with the seam on those stretch pants, and if she's not careful she may end up pregnant and bearing the child of a Mister named Lycra. Anyway, I like the way her boobs are squished together, and I'm here to celebrate some cleavage.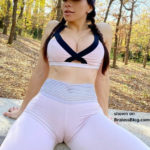 I'l leave you today with the world famous Brooklyn Decker. Although she usually wows us with her breasticles, today she's demonstrating that she also has the business downstairs to knock our socks off. Who would have guessed that she would have a pudenda that is just as A+ as her cleavage? Me, that's who. Yep, you should know that I can sniff out a 5-star vadge from thousands of miles away on the internet. Not like *sniff*, that's not what I mean. I just mean "identify". You perverts.