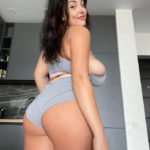 Sometimes my shirt is too tight. Like this giant boobie gal right here.
It's probably because I eat too many Pop-Tarts and Oreos with Double Stuff. But I like to blame it on the dryer. Dang dryer overheated my favorite Walmart t-shirt again. Not my fault.
I definitely don't mind when ladies squash their nipples and their nice soft pleasure pillows in tiny shirts. Sometimes they pop completely out, oh bummer.
I put together a quick collection of babes so afflicted. Boobies getting bounced around, boobies squishing out the bottom and sides… it's like one minute and fifteen seconds of heaven.
The redhead in this video has pasty skin, which for some reason makes me think of Helen Flanagan.