It's definitely time that we cover Mckayla Maroney.
Not like "cover" her. If anything, we want to uncover her. I mean like talk about her here on BB and look at her and moan about her.
She has been extra thirsty lately. By that I mean she has been posting photos all over social media of her scantily clad and looking like she was a good bangin'.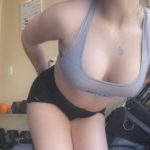 The photo of her in the tiny little black athletic shorts and the sports bra with her cute b (or c) cup boobies squashed up and her pokies showing? Yep, thirsty.
She knows what she's doing. She needs the attention. She craves it. I have a theory about that. Wait, before we get to that…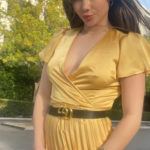 Like this little gold silk dress where it's hanging halfway open down to her bellybutton and she's braless and her nipples are prominently poking out? Uh, yeah. Does it get any more thirsty than this?
She used to be a gymnastics star. Now she's bored. She basically has nothing to do. She was in some kind of car insurance commercial awhile back where she fake-vaulted up onto a roof, and did some sexy come-hither looks at the camera. That made her a few bucks, but it didn't keep her attention for long.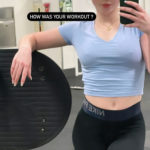 Now she likes to "workout" for her fans, which involves stuffing herself into some incredibly tight yoga pants that threaten to give her a cameltoe and then snapping a photo of herself in the gym mirror after she has pinched the bejezus out of her nipples so they stand at attention in order to get more likes.
See how this works?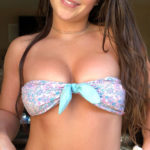 She recently went through a whole celebrity leak thing where some of her private nude photos showed up. And yeah, I have them, and yeah, her little body is blessed by the gods.
You have to wonder if she is secretly glad her stuff go leaked. She wants people to check out her perverted nudeness, but she doesn't really want to be blamed for it because she might not get mainstream work if she is.
Here's what I think is going to happen. I think she is going to start an onlyfans page. I think she will end up humping random objects and filming herself doing dirty things in the shower for money. I wish she would hump me, but that's a tale for another day.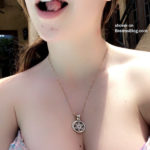 Clearly she will do well. She loves her body. Every time she dangles that cleavage around, the internet goes wild, and she gets off on the attention. I kind of think she is a hornball.
She is 26 years old these days. Her gymnastics career is way behind her. Turns out she was on the 2012 Olympic team. Dang, that was a long time ago. She was in the spotlight, lots of media attention, now she has to water her grass and shop for groceries and life just seems boring in comparison.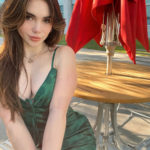 While I was at it, I updated the Paige Spiranac post with some boobies. Annnd I added some stuff to Haley Atwell's section because… yum.