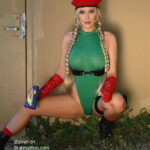 Update 3:
I thought I should put this update right at the top of the original post, because frankly Paige's boobs are so wildly popular that none of us want to wait for new views.
I've included this shot of Paige in the green thong bodysuit primarily because I simply cannot stop looking at her crotch. Ya'll know I have an obsession with braless crotches. In fact, my inspections of Giada's crotch have gained worldwide notoriety and prompted an investigation by the Global Labia Police.
Next up, we have Paige in this frill pink lingerie. Of particular note are the pokies. She generally keeps those nips so well-restrained that it's hard to get glimpses of them. It's safe to assume that she has big, smooth nipples, rather than the nubs that result in perma-pokies like some people. So enjoy the tiny hints we get in these first two photos, I threw the last one in because Paige's butt cheeks are also a thing to behold.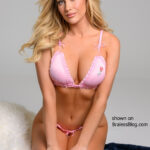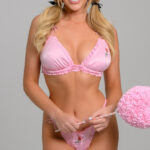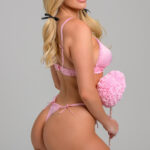 I want to leave this update with a favorite of mine. I can picture her on the golf course in the sun, getting a slick sheen of sweat on her, the scent of her hair and bathsoap trailing as she fans herself. Just to cool off a bit, she unzips her top while standing in the shade of a tree and let's the breeze blow against her. Dayum, I simply must bury my face in those big soft boobies.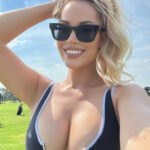 ***
Holy Mackerel, I think I'm in love. Or maybe lust. With the perfectly-shaped, naturally squishy boobies of blonde golfer Paige Spiranac.

She is 24 years old, and stands about 5'6″ tall. The interwebz fairly consistently speculate that she is a 32D cup size. If ya look close, you can see that she sometimes wears tanktops or various shirts that are padded and push her boobs up. So I'm saying D-cup is a good guess.
I coulda' sworn on a stack o' bibles that I posted something here on BralessBlog a few years back about Natalie Gulbis. But I've searched all over and I can't find a post about her or even a pic of her. Natalie is older than Paige, and she's built differently, but they are both obviously wowzer-hot.

I don't want ya'll to think I have some golf girl fetish. I like hot women, regardless of what kind of balls they like to play with. I just stumbled upon Paige on some innocent lark and can't get her boobs off my mind.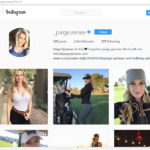 Back in 2017, the LPGA made some new rules that prohibited their female golfers from wearing low-cut tops that exposed cleavage, or short skirts that exposed too much thigh. My response to that:
>>>WHAT THE F, BOYS?
Are these dummies shooting themselves in the feet or what? There are probably only like five females in the entire world who would watch golf on TV. Meanwhile, every straight dude in the universe would slobber and moan to get a good looks at Paige's heavenly busoms on their 72″ HD TV. If you need further evidence of that, consider that her instagram account has over 1.3M followers. PS: they are all dudes.
At least as of this writing, Paige is engaged to be married to this dude named Steven Tinoco. Now other than being a lucky bastard, my man Steven is a personal trainer in the Phoenix area, and used to be a pro baseball player.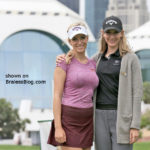 Paige graduated from San Diego University with a degree in communications. She is big into fitness, and dang if I can get past her chest I'll freely admit her legs are awesome too. She gets some of this from hard work, but hey now her mom has passed on some genetics too. Annette Spirinac was a Pittsburgh Ballet Theater dancer. By the way, her dad was a free safety for the Pittsburgh National Championship team. Her sister Lexie Spiranac (now Lexie Mitchell) went to Stamford where she competed in track & field and crew.
So there's no damn wonder she's a goddess. She was born to be one, then proceeded to work hard at it. Now she could step back and lament the fact that dudes ogle her body, curse and whine about being objectified. Or… show her stuff off, strut around and be a golf badass and make her money.
So anyway, I think it's time to introduce you to the best part about her. The *dynamic* part, yeah I'm talking about Paige videos!
edit: youtube deleted my video
I'll be honest, my favorite part of the entire video is that sequence where she's riding around in the golfcart with the creepy looking dude. Her boobs, as strapped down as they are, just cannot be contained. I enjoy seeing the bounce, and I'm sure you do too.
And if you made it this far down the page, you deserve something special. Something… like… some Paige Spiranac topless pics? Oh my, yes-yes, let's serve it up. I'm kinda hoping she gets so much attention for the ailing golf industry that they let her run around in something like this during the next tournament: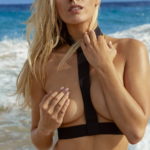 Update:
Paige's cleavage in this yellow shirt is enough to make me weak in the knees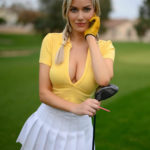 And a picture of her topless is enough to make the angels sing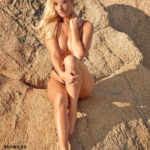 Update 2:
Paige was recently doing one of those famous Instagram "ask me anything" segments. Although I personally would've loved to ask her about her crotch, or perhaps her nipples, or what kind of toys she likes to play with, instead a fan asked her about her marriage. She admitted that she is no longer married.
Hey hey hey, things are looking up for me! I have been wanting to stalk, er I mean marry her for quite a while now.
At least as important as her marital status is her enhancement status. A bunch of BralessBlog fans are always inquiring about whether her boobs are real or not. You can check out this video of Paige doing various athletic endeavors. She's wearing this cute little criss-cross sportsbra that completely squashes her goddess-like boobies. I think this is incontrovertible evidence that she doesn't have fake boobs. One aspect of natural breasts is that they can actually be flattened and squashed down. If she had fake ones, those girls would look a lot different in that sportsbra.

I'm sure it doesn't matter, but when I posted her Instagram account 4 years ago, she had a little over 1 million followers. Now she's up to 3.2 million. Maybe she should run for president? I'd vote for her (nipples), that's for sure.