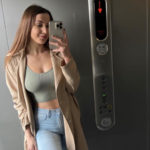 I had to go to an appointment downtown today. When I got on the elevator to go up to the 6th floor, there was a braless lady that stepped in with me who was so smoking hot, I thought I was on an episode of Candid Camera or something. Was this a glitch in the matrix? Was she purposely distracting me so she could brain me over the head and steal my wallet?
So that got me thinking. About boobs, as always. But in particular, braless boobs on elevators.
This is actually a thing. This is a new sub-category on awesome old BralessBlog. I legit searched the site, and I don't think I have every typed the word elevator anywhere in our 16 year history.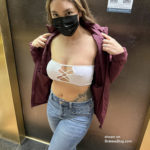 The ubiquitous smart phone has made selfies of boobs one of my great joys in life.
Since many elevators have mirrors, well BLAMMO! now we get pokies on the elevators. With many cases like this Asian babe where instead of a selfie, her girlfriend or her boyfriend encourages her to halfway disrobe before they snap a pic.
Does anyone want to check out a braless blonde milf with lots of leg tattoos?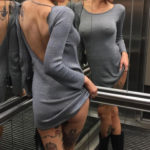 Here's a cute little gal taking her dog for a walk. Those wide hips look great in her little spandex workout shorts. She is a thick one, as evidenced by her wonderful jugs in that croptop.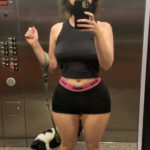 Is this busty, pokey gal wearing a unitard? I'm guessing she is riding the elevator down to the gym or the dance studio to work out. But if she's not careful, those perky little nipples are going to cause an accident out on the street.