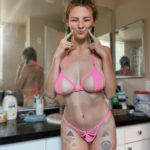 This started out as just another "Daily Braless Video" post. But I ran across the gal that calls herself Ethereal Lovebug, and her titties were so bouncy, free flowing, and delicious that I lost my mind and fell down a rabbithole.
While it's not unusual for me to disappear down rabbitholes associated with boobies, this was indeed a deep and dark hole. I'm just now climbing out, so I risk having a relapse just posting some of these goodies up for ya'll.
First let me say, Ethereal is not your pink clothes wearing princess who never gets dirty and never utters a swear word. She may look cute and nice, but this girl is nasty. She's like that girl you knew in high school that didn't shave her bits, had superchronic halitosis, but could suck a golf ball through a garden hose.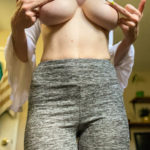 She has a really terrible tattoo on one arm that says "home sweet home" with a stick figure of a house that it looks like a 3-year old drew. You have seen better tattoos done in a dimly lit Russian prison with a melted BIC pen laced with gray toilet water.
But it ain't all bad, because pardner she's got some titties. And I mean, wow. They are big, they are all natural, they are droopy, and it became very necessary for me to see her nipples. Were they big, were they small, were they pink, were they brown? I had to know.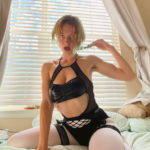 I would've been willing to pay some amount of money through her (these days quite typical) OF subscription, but thank lil baby jesus I stumbled across some stuff for free.
You may have seen those girlies of hers bouncing around back in the Daily Vid #7. If so, I've pasted here yet another one where she bounces and sways her way into our hearts and pants.
Her little body is only made for one thing, and it's not working behind a desk. We all know what she does for a living, and it involves showing off what she inherited in the way of curves and chromosomes. If you are able to watch this video with that little body flashing around without touching yourself, you are a goddam saint.
Update:
If you are wanting to go gonzo over her nipples, you'll want to watch this video where she's modeling the see-through blue shirt. I can't believe she's not going to get banned from youtube, as you can see basically everything. I'll post the video here for your enjoyment, but I suspect it won't be long before it's gone.