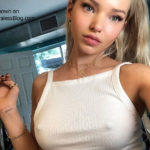 I got surprised the other day when I stumbled across this image of Dove Cameron on the interwebz. Seeing her nipples poke out of that white shirt made my hairy toes curl up, and I was immediately interested in finding out more about her boobs personality.
Her eyes are greenish, and she's 5'2″ tall, and she's 26 years old as of this post date, which is about as far as I got into anything not related to her cleavage.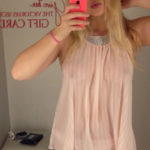 I got pretty serious once I saw this see-through selfie she took of herself in a mostly transparent nightgown thing in a dressing room in Beverly Hills. She has graduated from pop princess to a new level of "touch yourself while you think of me" with that nastiness. I might want to take her to prom.
She isn't built like a Mack Truck or anything, no top-heavy mogambos for this girl. If you want to see that (and honestly, who doesn't??), you'll have to click on over to Anamaria Dodan. But Dove is obviously proud of her little B-cups, and that makes me like them even more.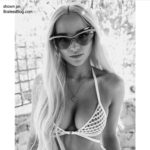 She apparently started out as some kind of Disney actress. I'm guessing they keep you on the straight and narrow, make you wear underwear and not slut it up too much. But since she grew up and got away from Disney's clutches, she started getting a little wilder and a little bolder. Some tattoos here and there, public bra burnings, hell she might even be giving her boyfriend a handjob in the back of the home improvement store these days.
Or girlfriend for that matter. Cause she has come out to say she is bisexual. And I don't want to discriminate. She's welcome to do hot dirty things with whoever she wants, and I'm happy to enjoy it from afar and post up pictures of her cleavage or her leaked nudes.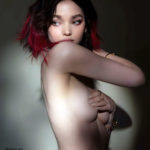 Haha, kidding. I might have downloaded a few pics of her perky little nakedness, but I won't post them here. But she ain't shy about posing topless. Spicing it up with a little bit of goth or alternative, ex-Disney Dove Cameron topless action is just what the doctor ordered.
The way that she is cupping her boob like that makes me think about her pinching her own nipples and moaning. But I digress.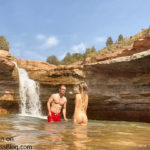 I find it interesting (in my perverted kind of way) that she seems to be so focused on her tits. She has 48 million (!) followers on Instagram, and she's so thirsty for attention that she posts a picture of herself somewhere on line every 28 seconds, yet I had to try really hard just to find a basic pic of her butt in a g-string or a thong. As you can see, her butt looks mightyfine, so if I were her I would get with the program and put that thing up on some billboards or with some flashing neon lights somewhere. Shoot, she would probably double her drooling little IG followers if she started flashing those buttcheeks around.
I kinda thought she was cousins with Cameron Diaz, but I was just confused.