I don't know why I keep forgetting to (un)cover Jessica Chastain here on BB.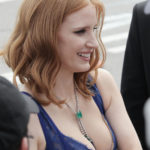 She is no spring chicken. These days she's 45 years old. She has been in a bazillion movies. And she's even done some nude scenes, but they weren't particularly thrilling or exceptional.
She's a very private person, kind of shy. Which sucks for her, because we are all about looking at those boobies, aren't we?
Jessica's boobs are sort of here-today-gone-tomorrow, peekaboo boobs. I'm pretty sure they are not enhanced, because that's how natural boobs tend to be. They grow, they shrink, they get squashed by dresses, they bounce around in certain clothing.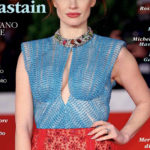 She's all about the women's lib, but she certainly doesn't mind showing off her nipples or wearing a blazer with nothing underneath and flashing enough cleavage to give a priest a heart attack.
Apparently she married a legit Italian Count (blah-blah-blah) a few years ago, and they popped out a couple of kids.
She has taken more than a few action roles in movies, which I find weird. But then in some cases she plays a wife getting drilled or a secret agent. Here's a video of her boobs that you'll probably enjoy.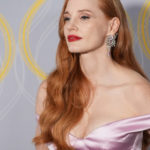 Jessica is a redhead. Apparently I haven't covered many redheads on BB over the years. I found a reference to one in this post from a few years ago, and I thoroughly enjoyed re-watching the video!