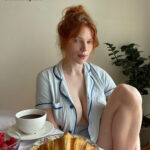 I could not frickin resist.
This redhead has gigantic jugs. She has her pajama top unbuttoned all the way, let those big girls breathe.
I like how they are hanging together and creating some cleavage. The way she has her knee casually pulled up and that naughty look on her face – like she's thinking "I'm made at you because you didn't give me the D last night. Bring it over here and jump on me before we eat breakfast."
It's hard to believe I don't have a separate redhead category. I found a few posts though, so enjoy.