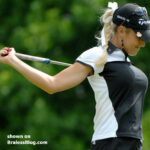 I keep swearing that I'm not a huge golf fan, but I keep posting about golf boobs. But therein lies the explanation… boobs.
Natalie Gulbis might not have been the OG golf babe, but she was one of the first to really break out. And with good reason – damn she is beautiful.
Blonde hair, slate-blue eyes, giant white-teeth-smile. And that body, holy mackerel. She is trim and skinny but not small at 5'9″. Amazing legs and a flat tummy. But her boobs, I swear those things sit on a shelf.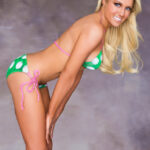 You will never see a pic of Natalie where her boobs are laying down and sleeping. Those tits are supposed to be b-cups or c-cups, but her waist is so small and her ribcage pushes them out so much that they are impossible to ignore.
She was really hot stuff there for awhile. She even shot a calendar with her dressed in skimpy bathing suits. It was so racy the PGA came out with a statement that PGA shops weren't allowed to sell it.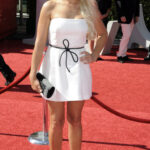 Natalie was so busy flashing those pearly whites and those boobies around that she never really had time to focus on golf. She was only moderately successful. I think she ended up doing some kind of sports thing for the Trump Administration. We can all admit Trump is one guy who knows a great rack when he sees it. She was thinking about going into politics, but I haven't really seen anything to indicate she's done so.
I've posted a video Natalie shot for the LPGA. Other than the short skirt and the super-tight shirt, she isn't wearing anything overly suggestive. But pay careful attention to the way she walks up to her swing. Those boobs, I tell ya, there are not going away. They are a resource she'll continue to exploit for a lifetime!