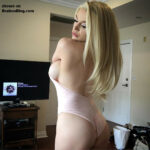 I thought I would start us off today with a little blonde sideboob.
This gal looks like a real hardbody, without an ounce of fat on her. Also, it looks like her butt is hungry the way it is eating that bodysuit. I would love to see a front view of all that goodness, but alas we will have to wait until another day to see if that materializes here on bralessblog.
A bunch of people have been blowing up my inbox about Rose Hart. So I spent a little time digging out and posting up more material on that little hunny, check out the update.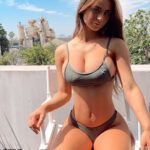 Maybe I should have a new category that expands from "just" bikini pokies to something like badass bikinis. Not just anyone could pull this swimsuit off, but this chick has the equipment to do it properly. It's very distracting how those titties are spilling out the side.
You see the thing right over her nipple? I don't know what's up with the x. It's not an artifact in the picture, it's sewn into the bikini top. Maybe it means "no biting allowed"?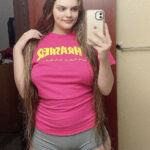 One combination I've never seen with my kinky obsession is dimples and cameltoe. Annnnd we'll take care of that right now.
You can tell by the delicious droop that this babe isn't wearing a bra under her Thrasher t-shirt, which of course makes me want to thrash her. If you really study it closely, you can also see a hint of nipple. She has the cute smirk thing going on, thus producing the dimples. And those tiny gray shorts are doing a terrible job of hiding her cameltoe.