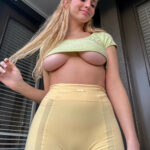 I'll occasionally stumble across something that blows my socks off. Like this.
Braless is great, but this gal takes it a step further with her boobs winking out from under her green t-shirt. And then she adds the cherry on top with that wonderful little cameltoe folding into her yellow yoga pants.
Those glossy pink lips up top make me wonder if she has some glossy pink lips down below.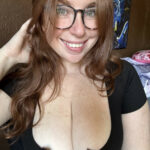 I've been on a kick lately to find braless action with faces. There's plenty of stuff out there where you can see yummy boobs, but with chicks not showing their faces. Well ya know what? I wanna see your cute face too!
This lady's boobs look so soft. She is smiling in a way that makes me think she would be happy to let me stick my face in her boobs and rub them around.
I bet her nipples would harden right up, and life would be good.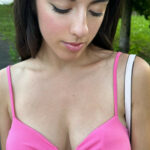 We should not skip past this little hunny in a pink top.
The way she is looking down and off to the side is very demure. I get the sense she is about to say "Yes, sir. You can spank me and jiggle my braless boobs. Please enjoy yourself."
Her boobs are so perky it's enchanting.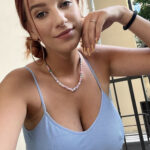 Bigger is not always better, but an extra large handful can be a good way to enjoy a braless boob.
This babe looks to have some really enormous titties. I'm sure she has, at least in some ways, enjoyed them her entire adult life. Lots of attention, lots of doors getting opened. Lots of perverts like me staring at them.
I can see her pokey nipples, which is great. But that cleavage that starts way up high is a mind-blower.