Katy Perry's boobs get my attention every time.
It's not that I don't like her music. It's fine. But that curvy, bouncy body snaps my head around, and makes my eyes big, and makes my pants tent up like I'm a horny adolescent.
Surprisingly, it has been 11 years since I've even mentioned her here on BralessBlog. For those of you who are lazy bums:
Katy Perry Sideboob Yummies
Katy Perry Pink Nippage
Katy Perry Pokes
Katy Perry Gigantic Cleavage
Katy Perry Boobs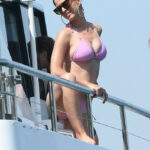 I find this pic just delightful! The reasons:
1. That purple bikini top squashes Katy's soft boobies in a way that makes them spill out the sides like the world's most delicious muffin-top.
2. You can see just a hint of her nipple pokies, which makes me slobber like one of Pavlov's dogs.
3. The way she has her foot up and her hips cocked puts her crotch on display, invoking some instinctual mammalian urge in me to howl like a wolf and copulate like a rabbit.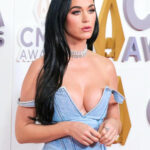 She must have used tape, or super glue, or some kind of magic Star Wars tractor beam to hold this dress to her boobs.
You know how sometimes you'll smell somebody's perfume or walk by a janitor who is vacuuming and you'll sneeze? What would happen if Katy sneezed while she was in this dress?
I suspect at least one if not both of those wonderful double-dee's would pop free. And oh, what a wonderful day that would be.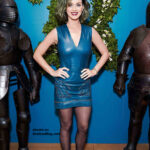 As we all know, big natural boobs like Katy's can be squashed down and moved around, and subsequently sometimes they look smaller and sometimes they look bigger.
In this shiny blue dress, her boobs are flattened like pancakes.
But hallelujah, I can clearly see the imprint of both nipples. I think this was pre-pregnancy, so her nipples had not yet been through the baby torture test.
There have been a few leaks over the years, and I have to admit that I've seen a few pics of Katy topless. Yep, her nipples are pink. Yep, her bare boobs are as wonderful as I was imagining.
Also, there was a sex tape thing. I think it was with Orlando Bloom. I'm guessing somebody's phone got hacked.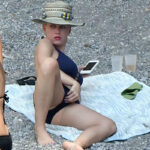 For now, I'll leave you with this oddball pic.
Um, so Katy was masturbating on a public beach? Or maybe her ladybits were itching and she gave them a scratch?
Hey, there's no shame. If I had a pudenda as pretty as Katy's, I'd be hard-pressed to leave that thing alone. I'd be rubbing and tugging and slapping on it 24/7.