I'm sure ya'll know all about Wifey by now. I have moaned about her before. She is obviously very moanworthy. Somewhere in the world, this lady's husband and kids have a very good reason to be might proud. I would hope she keeps those F-cups under wraps when she goes to the PTA meetings and on quick trips to the dry cleaners and the grocery store. Dang those are big delicious-looking melons.
We kind of talked about stretchy boob-tanktop interactions back this time last year with this insane braces wearing milf. When you are well-endowed like Wifey, cramming yourself in a top like this is the equivalent of dooming it to a single use. Too stretched out to ever recover, fo sho. Welp, she could kindly mail it to me, letting the scent of her perfume (and possibly her musky nipple scent) linger. At which time, I would be happy to barricade myself in the bathroom with it and give it a second use. A supporting role in an activity that does not mind if it doesn't hold it's original shape.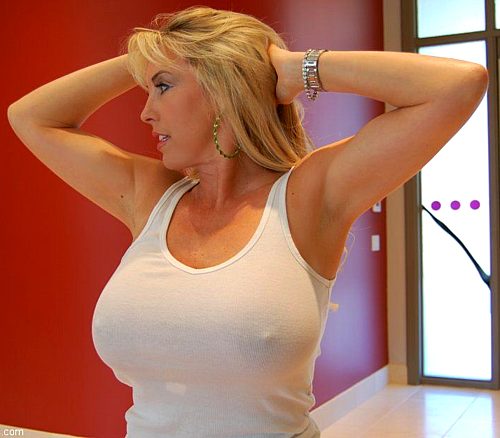 So be proud, Wifey. Throw those elbows high and those magnificent ta-ta's out. Stomp in your heels so you jiggle a bit, and keep me happy and lusting. They don't really make them like you anymore, so age gracefully and keep us coming back for more.