We dabbled with a little of Ms Selena Gomez braless back in 2012. Since then, it's possible that her boobs have gotten smaller while her inhibitions have become microscopic.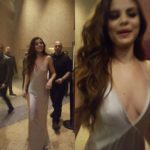 Yes, ladies and gents, this girl likes to let her boobs hang out.
Who can blame her. She has the body of twenty-four year old goddess. Although she has both Mexican and Italian ancestry, she does not have a giant badonkadonk, thank the gods. I don't mind a big booty, I just don't like a comically sized one.
I don't know how big her boobs are. In some cases, they look ginormous, like true D-cup action. But in reality they are probably nice-sized C's. My expert, calibrated eyeballs never lie.
To really get you in the mood, I've added a video. The photos do a great job of making us hungry for some braless motorboatin' on Selena's ample bosom, but you can't get a feel for it until you see this girl bouncing around. Wowsers.
One of the clips appears to be her on stage with… ah is that Taylor Swift? I haven't featured Taylor on BralessBlog because frankly she is not particularly well-endowed. However, I'll add her to my list. Just the fact that she stood on stage with a rack that great means she's destined to be on BB.
The second clip might be from one of her videos. It's hard to tell, because it's all smoky and filtered and fancy. I hear Selena started her own production company, and her own clothing line, and signed like a $10M deal with Coach purses recently. All that's well and good, but for god's sake can she just design some tubetops and then stop by my trailer house and model them?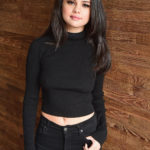 Now I am the braless zen master, and you will see some Selena pokies in one of these pics. Those are not easy to find. Her boobs are big, but her nips are not gigantic diamond-hard things suckled by ten babies and ready to put your eyes out. So consider yourself lucky. This is why you come to this website, right? For my incredibly thorough investigative reporting?