Although I have waxed eloquently about her before, I didn't realize I had misspelled her name, or that it had been so long since I had cozied up to Courteney Cox nipples.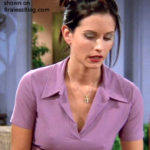 I think there was a bit of a pokie duel going on between Courteney and Jen back in the days of the Friends show. Poor Jen can't keep her areola under wraps even if she had a bra padded with concrete. Courteney was a little more discreet, but she unleashed them when needed.
Courteney is getting up there in age; I think she is 52 or 53 years old these days. I'm guessing tha boobs have a little droop to them. But she has never been terribly well-endowed, so gravity has not been unkind or severe.
She has been in a couple of nude scenes, and there have been some nipslips over the years. One in particular I'm thinking of was when she was wading through some waves at the beach and some toddler jerked her bikini top down. BOINK! Out comes the little brown nipple.
Not gonna show you that here of course, because I try to be on the downlo. Besides, it's just as sexy to check out her pokies in her soft cotton tops. Possibly as a result of some frigid air conditioning on the set of the Friends show?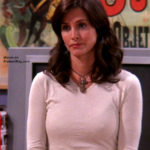 A little trivia for you, Courteney was the girl in Bruce Springstein's Dancing in the Dark video who he pulled up onstage to dance. Now I have no idea whether that stage appearance was actually staged, but I think it was. She was already doing some modeling and acting at that point, and the very next year was in some TV shows.
I swear I had read somewhere that Courteney did a comedy stand-up routine one time and talked at length about nipple clamps. I have searched high and low for that clip, but apparently it doesn't exist. Maybe she likes tweaking and pinching those little brown pokies? If so, more power to her. No complaining here. Awesome.
This video showing Courtney braless and magnificent is not to be missed: