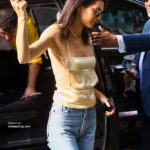 Kendall Jenner may be a little on the skinny side, but when she goes braless people take notice. Especially me.
At 5'10", she is a pretty tall drink of water. She is pretty, in that Kardashian sort of way. Kind of a dark, smoky, European or Armenian look. I think she recently won model of the year for something or other, so presumably somebody somewhere thinks she ranks pretty high on the arousal scale.
Here's the thing: the girl just refuses to wear a bra. She recently posted a snap on instagram of her in some sexy white calvin klein bra/panties. Now I get it, she probably got paid like $100k just to advertise for old Calvin. But it's goshdarn funny considering she *never* wears a bra. Basically, somebody has to pay her a-hunny G's in order to wear a bra. You can't make this stuff up folks, only real life is this ironic.
Kendall would probably make a great spokesperson for BralessBlog. She would probably organize movements where women burn bras in the street, and then take up bra collections and have them chopped up and made into mattresses, and have enlightened ladies sign a pledge to go braless for a year.
No, your eyes are not deceiving you. That's her flipping the bird to the paparazzi. She is kinda crude like that. You would be too, if you were 21 years old and liked to slink around with your boobies uncovered, and the dang cameramen were always documenting it and showing it to the world.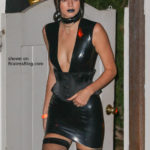 Thus we can assume that despite the fact that she's always braless, she doesn't really like having photos of it plastered all over the internet. Too bad, that's what I say. We are dudes, and we like boobies, and if you are going to bare yours and you're famous enough to have people taking pictures of you constantly, this stuff is gonna happen.
Truth be told, Kendall is probably an A-cup. Maybe a B-cup on a good day. I'm not complaining at all, it's just that we can't expect bouncy action like we see with Selena, or giant D-cup rediculousness.
Kendall Jenner pokies are spied pretty much continuously, and I kinda wonder if she has a boyfriend, and if he's totally immune to their allure by now. That might not be possible, because boobs=awesome, but just saying.
That may be him in the car with her in this one pic. A thought just flashed through my dusty, shriveled up, perverted mind: Kendall's boyfriend riding shotgun in the convertible and easing his hand up her top to pinch her nips while the miles roll by and the cameras snap away and… Kendall flips everybody off.
Update: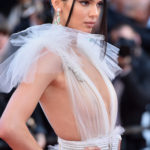 News article about Kendall going see-through and braless.
And if that wasn't enough, how about…
Another news article where Kendall went braless and joked about it.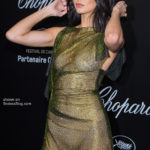 Her sister Kim…
http://www.bralessblog.com/2012/02/21/kim-kardashian-pokies.html